Denne gangen er det selveste Hermann Hreiðarsson, vår æresmedlem, som svarer på spørsmålene til supporterintervjuet. Hermann forteller også om hva han gjør på i dag og hvem fra Pompey-tiden han fortsatt har god kontakt med.
---
SUPPORTERINTERVJUET: Han trenger vel ingen nærmere presentasjon, men vil du oppdatere deg selv på Hermann Hreiðarsson og hans karriere, har vi laget denne spillerprofilen på islendingen her.
Hermann kom rett fra å ha vunnet en vinterturnering på Island da han stilte til supporterintervjuet fredag kveld – dagen før Pompey får besøk av Plymouth på Fratton Park. Her er Hermanns svar.

Hermann helt til venstre.
First of all, Hermann, we all know about your time at Pompey and the success you had at Fratton Park. Where do you live and what do you do nowadays?
– I live in Hafnarfjordur Iceland now. Since I left the job at Southend as assistant manager. I took over as manager at local club in league 2 last season and I am still at Throttur VOGAR. We won a trophy tonight in the first winter tournament. My missus Alexandra and I have a young family, 2 boys. 16 months and 4 months. So we are definitely entertained.
Do you keep in touch with some of your former team mates at Pompey?
– Yes I do David James is a good friend who I have worked with a couple of times. He came and was playing in Iceland as well as assistant manager. Then I went to India for a year as his assistant. So we always stay in touch. Then I have worked with Sol Campbell as assistant manager at Macclesfield and Southend. I have also stayed in touch with Marc Wilson, Richard Hughes and few others.
What are your best memories from your days as a Pompey player?
– The Obvious one Wembley Stadium 17th of May 2008. F.A CUP WINNERS PORTSMOUTH! What a Beauty
Her satt over 20 medlemmer av Venner av Portsmouth under FA-cupfinalen på Wembley i 2008.
Last season Pompey did really well in the cups, but ended up losing to Oxford in the play-offs. What do you think of Pompey's 2019/20-season?
– Pompey had a great season, and played exciting football but it was a strange season obviously. Playoffs anything can happen but I felt Pompey were the stronger side against Oxford And unfortunate to lose.
This season Pompey are out of all the cups and can use all their energy on getting promotion to the Championship. After two disappointing defeats at Fratton Park, Pompey got another great win away from home when they won 3-1 at The Valley on Tuesday. Now Pompey are 4th in League One. What do you think of Pompey's season so far?
– Pompey are in a very healthy position and again playing energetic attacking football, it is that elusive consistency that every team is looking for and I feel like Pompey are very close to achieving. Very good season so far.
Are you still following Pompey? Where do you keep yourself updated on the club? 
– Yes of course! For starters it is fotmob. And the portsmouth news and other sport news.
Who do you think are Pompey's most important players now?
– The Team!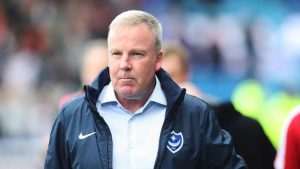 What do you think about the job Kenny Jackett is doing at Pompey?
– I am a big fan of Kenny and the Job he has done. I really like his Style of play, it ticks all the right boxes for me. Well organised, energetic and exciting attacking football.
What do you think about Pompey's promotion chances this season? Which clubs will be the hardest rivals in the fight for the top two places?
– Pompey will grow stronger and will win the league. No competition!
On Saturday Pompey are at home to Plymouth. What do you think about that game? Score prediction?
– This fixture usually gets both set of fans in a war mood and the atmosphere is fantastic (no fans)So Pompey will turn it on for the super fans and smash it 6-0.
Finally: Have you got a message for all the Pompey supporters in Scandinavia?
– I will be back. Life, fun and football! Hermann
---
Før 22. serierunde: Hull City (H): Sondre Rossbach
Før 21. serierunde: AFC Wimbledon (H): Jon Romuld Håversen
Før 20. serierunde: Fleetwood (B): Trygve Mellvang Tomren-Berg
Før 3. runde FA-cup: Bristol City (B): Mark Raine
Før 19. serierunde: Hull City (B): Ståle Håheim
Før 18. serierunde: Fleetwood (H): Mange Nilsson
Før 17. serierunde: Ipswich Town (B): Torkil Risan
Før 16. serierunde: Peterborough (H): Jean Robert Tankred
Før 15. serierunde: Blackpool (B): Robert Daffenberg Nilsen
Før 2. runde FA-cup: King's Lynn Town (H): Michael Pantling
Før 14. serierunde: Oxford (H): Thorgeir Benjaminsen
Før 13. serierunde: Crewe (H): Tom Saunders
Før 12. serierunde: Plymouth (B): Håvard Myhre
Før 1. runde FA-cup: Ipswich Town (B): Atle Stray
Før 11. serierunde: Lincoln City (B): Torstein S. Pedersen
Før 10. serierunde: Charlton (H): Alexander Nilsson
Før 9. serierunde: Northampton (H): Veny Vere
Før 8. serierunde: Sunderland (B): James Lund
Før 7. serierunde: Gillingham (B): Bjarte Hope
Før 6. serierunde: Doncaster (H): Andreas Hougaard
Før 5. serierunde: MK Dons (H): Zubajra Tsutsulaev
Før 4. serierunde: Burton (B): Jakob og Øyvind Velde
Før 3. serierunde: Wigan (H): Sam Manton
Før 2. serierunde: Rochdale (B): Kyle Simon
Før 1. serierunde: Shrewsbury (H): Rasmus Sørensen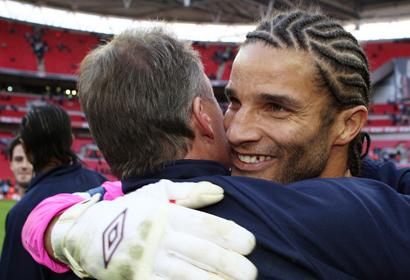 David James er én av Pompey-spillerne Hermann fortsatt har god kontakt med.