Sam Manton (t.h.) er defintivt ingen Kenny Jackett-fan, men i dag tror Sam på tre poeng til Jacketts utvalgte.
---
SUPPORTERINTERVJUET: I likhet med Kyle Simon, som ble supporterintervjuet før forrige seriekamp, er Sam Manton en engelskmann bosatt i Norge. Intervjuet foregår derfor på engelsk.
Sam er vår medlem nummer 103 og er bosatt i Aurskog, ikke så langt fra Oslo. Sam er også aktiv på Twitter og kan følges her.
Her er Sams tanker før dagens hjemmekamp mot Wigan:
Pompey did well in the cups, but ended up losing in the play-off semi-finals again. What do you think about Pompey's 2019/20-season?
– Incredibly disappointing. We didn't deserve to get promoted at all. Our performances over the season were average at best and Jackett's team selection for the 2 playoff games were bizarre, but that's the new normal with him these days. I think if it hadn't been for Covid he would be out of a job. Can't blame the owners for wanting a stable club but sticking with a guy who's had 3 shots at it and still failed is not good enough.
Pompey have drawn 0-0 both at home to Shrewsbury and away at Rochdale in the first league games of the season. They have also played three cup matches, the latest against Brighton on Thursday. What are your thoughts on Pompey's start to the season?
– I think we've picked up from where we left off last season. Stale tactics, absolutely no imagination, and 0 goals. Poor John Marquis up top with an impossible job. We've managed to turn the best league 1 striker into a sunday league player. Respect him for coming out and honestly taking blame for last week against Rochdale, but in the grand scheme of things it's not his fault. You can see he's quality, just hope we start giving him decent service.
I'm happy to be out of the league Cup. Brighton are doing something right with their academy. If the owners and serious then we need that investment in youngsters. Their youth team blew us out the park.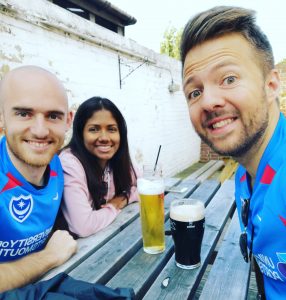 How do you keep updated on Pompey (matches, news)?
– I subscribe to ifollow for the live matches which is nice when living in Norway. Most of my other pompey news is from twitter (sam_manton).
Have you got a favourite player at Pompey now?
– Really like John Marquis as a player and as a person. He's exactly the type of player and character you need. Gutted to loose Burge, he was a big favourite of mine. Really showed how bad Raggett is at the back without him.
What are your thoughts on Kenny Jackett and the job he has done and is doing at Fratton Park?
– Anyone who follows me on twitter will know my views on the manager of Portsmouth Football club currently. I think it's a miracle KJ is still in a job, but it's not surprising at all. I am fully behind the Eisners but I knew they wouldn't sack him. It looks like they are playing out the remaining contract he has, and didn't want to take any further risks in this torrential period. I can't wait for the day we have a young up and coming manager who's given a chance, has fresh ideas and actually plays football. You don't have to look far to find that in league 1 currently.
Now Pompey are at home against Wigan. What are your thoughts on this game, what is your starting 11 and what do you think the score will be?
– Without scandanavian bias I think Rasmus Nicolaisen should go straight into the team next to Whatmough. Raggett is Bambi on ice, and is such a liability. I think stick with our attacking options, maybe bring Jacobs in if he's match fit. He will be very exciting to see against his old team. Will be interesting to see Kal Naismith for Wigan. He was one of my favourite from our league 2 winners squad. An absolutely crazy return of goals, coming out of nowhere and helping us win the league on the last day. Certainly would get a warm round of applause at Fratton if there was a crowd.
I think pompey will win actually. I'm going with 1-0.
What do you think about our promotion chances this season?
– Had you asked me at the start of the season when the only signing we'd made was Sean Raggett I'd have said we'd be lucky to be top half. But since that disaster defensive display at Stevenage we've signed a few solid players. Johnson at RB seems like the best we've had in a few years. Pring at LB looks tidy also. I've been a Lee Brown sceptic but he's been ok so far. Jacobs and Rasmus at the back are both good too so I think we may scrape the playoffs in Kenny Jackett style with lovely long balls and ugly wins.
Have you got a message to the other Pompey-supporters in Scandinavia?
– I look forward to playing football with the other scandi Pompey lads again and hopefully meeting up and heading to a game once the world is normal again. Play Up Pompey as always
---
TIDLIGERE SUPPORTERINTERVJUER DENNE SESONGEN:
Før 2. serierunde: Rochdale (B): Kyle Simon
Før 1. serierunde: Shrewsbury (H): Rasmus Sørensen
John Marquis (t.v.) er Sams favoritt.