Pompey har ikke spilt en kamp på over tre uker. I dag tror Mark Raine vi slår ut Championship-laget Bristol City på bortebane, etter straffesparkkonkurranse.
---
SUPPORTERINTERVJUET: Mark Raine, brite bosatt i Danmark, er vår medlem nummer 43. Her er hans tanker før dagens kamp i 3. runde av FA-cupen: Bristol City-Portsmouth.
Pompey did well in the cups last season, but ended up losing to Oxford in the play-offs. What do you think of Pompey's 2019/20-season?
– In the end, I think we sneaked into the play-offs after the Corona break. The matches against Oxford followed the pattern of the season: negative football, and lacking in creativity and quality.
We are 3rd in the league. In the cups we are out of the league cup, but we are still in the FA-cup and EFL Trophy. What are your thoughts on this season so far?
– After a slow start, things are more positive this season. We are scoring goals, and looking dangerous in attack. The players seem to be playing with more confidence compared to last season, and automatic promotion must be the target.
How do you stay updated on Pompey (matches, news, rumours etc)?
– Family in Portsmouth, and social media.
Have you got any favourite players at Pompey at the moment?
– John Marquis and Marcus Harness. Rasmus Nicolaisen has also impressed me, and is a good option at centre-back.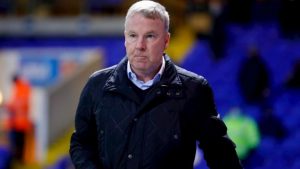 What do you think about Kenny Jackett and the job he has done and is doing at Fratton Park?
– My opinion has changed a bit this season, as the results and performances have developed. The quality last season was generally poor, and players out of position. I didn't think he would be sacked, but if we don't achieve promotion this season, the owners might be forced into a change.
What do you think about our promotion hopes this season?
– We are in with a good shout. Right now, things look good, and we have the goalscorers and form to make the top 2. We showed that against Hull recently. However, given the Corona situation, our squad depth will be tested as the games pile up, and I hope we can keep it up.
Now it is time for an FA Cup game against Championship-side Bristol City in the 3rd round of the FA cup. What are your thoughts on that game, what is your starting 11 and what will the score be?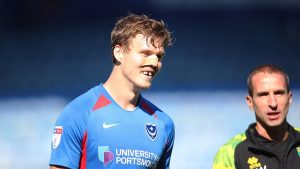 – I lived in Bristol for a while before I moved to Denmark, and they have been a solid top-half Championship side for a while. It will be a good test for us. I think KJ will play a strong side, and an FA Cup run should always be something to look forward to. I can see us winning on penalties.
Lineup: MacGillivray, Brown, Whatmough, Raggett, Johnson, Williams, Curtis, Naylor, Cannon, Harness, Marquis.
Have you got a message to the other Pompey-fans in Scandinavia?
– I hope it's not too long before we can enjoy a game together again. I don't know whether it will be this season, but as soon as it's possible, we'll be back!!
---
Tidligere supporterintervjuer denne sesongen:
Før 19. serierunde: Hull City (B): Ståle Håheim
Før 18. serierunde: Fleetwood (H): Mange Nilsson
Før 17. serierunde: Ipswich Town (B): Torkil Risan
Før 16. serierunde: Peterborough (H): Jean Robert Tankred
Før 15. serierunde: Blackpool (B): Robert Daffenberg Nilsen
Før 2. runde FA-cup: King's Lynn Town (H): Michael Pantling
Før 14. serierunde: Oxford (H): Thorgeir Benjaminsen
Før 13. serierunde: Crewe (H): Tom Saunders
Før 12. serierunde: Plymouth (B): Håvard Myhre
Før 1. runde FA-cup: Ipswich Town (B): Atle Stray
Før 11. serierunde: Lincoln City (B): Torstein S. Pedersen
Før 10. serierunde: Charlton (H): Alexander Nilsson
Før 9. serierunde: Northampton (H): Veny Vere
Før 8. serierunde: Sunderland (B): James Lund
Før 7. serierunde: Gillingham (B): Bjarte Hope
Før 6. serierunde: Doncaster (H): Andreas Hougaard
Før 5. serierunde: MK Dons (H): Zubajra Tsutsulaev
Før 4. serierunde: Burton (B): Jakob og Øyvind Velde
Før 3. serierunde: Wigan (H): Sam Manton
Før 2. serierunde: Rochdale (B): Kyle Simon
Før 1. serierunde: Shrewsbury (H): Rasmus Sørensen
John Marquis.