Det er en bortekamp vi må vinne for å holde følge med lagene i opprykkskampen. Kyle Simon tror da også det ender med seier 2-1.
---
SUPPORTERINTERVJUET: Kyle Simon er vår medlem nummer 106, og dermed nest ferskeste medlem, og stiller på denne rundens supporterinterju. Engelskmannen, bosatt i Moss i Norge, tar intervjuet på engelsk. Her er Kyles tanker før bortekampen mot Bolton:
Pompey won the Checkatrade Trophy, but ended up fourth in League One and lost in the play-offs semifinal. What do you think about Pompey's 2018/19-season?
– Considering the start we had to the season, I am of course disappointed of how we finished the minus the mickey mouse cup win. However, if you had told me before the season started that we would finish 4 and win a cup I would of bitten your hand off.
What are your thoughts and hopes for this season?
– I think that finishing some where in the mix for promotion is the minimum that we should be achieving. I would say I hope we start playing some form of, excuse the Ruud Gullit quote, Sexy football. Although I am well aware that this will not happen under Mr Jackett. That's just not the type of manager he is.
So far this season we are 7th in League One, lost to Saints in the 3rd round of the League Cup, have made it to round two in EFL Trophy and are now ready for the fourth round in the FA Cup. What do you think about Pompey's season so far?
– We have been so hot and cold this season it is unreal, some of the performances have been extremely poor. I have been on the fence with the Jackett out an brigade but I feel ultimately that he is the manager to get us promoted. No matter how much my eyes bleed watching some of the games. Some fans seem to feel that we have a god given right to be promoted, but we are in this league for a reason, same as every other club here with us. I drifted off topic there, to answer the question at hand. I am satisfied with the current season, we are still in the mix for promotion and that is all you can ask.
Are you going to watch Pompey live this season?
– No plans are yet made, I dont get back to the park very often these days. Ifollow has been a god send for me.
How do keep yourself updated on Pompey?
– I keep my eye on a few facebook pages to see if there is any interesting rumours, trying to dodge all the stupid comments of some fans. Sorry, I should not say stupid, everyone is entitled to their own opinion, no matter how much it annoys me! I have the Portsmouth App to see the club news and of course I watch pretty much every match on Ifollow.
What do you think about Kenny Jackett and the job he is doing at Pompey?
– I can't stand the football that is played, some of his substitutions baffle me and his refusal to change things up gets on my tits. However, as I mentioned before , I feel that ultimately he is the manger to get us promoted.
Have you got any favourite Pompey players this season?
– I have always liked Burgess, but I think that is more because of his efforts within the community then when he is on the pitch. Favourite player for purely footballing reasons would probably be Harness.
Now we are away to Bolton. What are your thoughts about this game and how do you think it will end? What is your starting eleven?
– It will be a tough game. Same as every game in this league. I am pretty positive that we will come away with a result though. Im feeling a cheeky 1-2. Starting 11: Bass, Bolton, Burgess, Whatmough (I wish!), Seddon, Naylor, McGeehan, Harness, Williams, Curtis, Harrison
What do you think of our promotion hopes this season now?
– Our results show that we are not good enough for automatic promotion, but I would not completely wrtie that off due to how tight the league is this year. I'm pretty sure however, that we will finish in the playoff places.
Have you got a message for the other Pompey-fans in Scandinavia?
– Ummmmmmm……. PUP!
---
Her er tidligere supporterintervjuer denne sesongen:
Før 24. serierunde (AFC Wimbledon H): Håvard Myhre
Før 3. runde FA-cupen (Fleetwood B): Rasmus Sørensen
Før 23. serierunde (Gillingham B): Asbjørn Stokken
Før 22. serierunde (MK Dons B): Øyvind Velde
Før 21. serierunde (Wycombe H): Anton Jonasson
Før 20. serierunde (Ipswich Town H): Torgeir Melvær Nesse
Før 19. serierunde (Accrington Stanley B): Mange Nilsson
Før 18. serierunde (Peterborough H): Duncan Griffin
Før 2. runde FA-cupen (Altrincham H): Tom Saunders
Før 17. serierunde (Rotherham H): Alexander Thorsen
Før 16. serierunde (Rochdale B): Sigbjørn Tjetland
Før 1. runde FA-cupen (Harrogate Town B): Magnus Smith
Før 15. serierunde (Southend H): Lars Håvik
Før 14. serierunde (Oxford United H): Alexander Nilsson
Før 13. serierunde (Bristol Rovers B): Kenneth Johansen
Før 12. serierunde (Lincoln City H): Steen Houman
Før 11. serierunde (AFC Wimbledon B): Haris Nuhanovic
Før 10. serierunde (Gillingham H): Jean-Robert Tankred
Før 9. serierunde (Doncaster B): Robert Nilsen
Før 8. serierunde (Bolton H): Zubajra Tsutsulaev
Før 7. serierunde (Wycombe B): Pål Alexander Lea
Før 6. serierunde (Burton H): Trygve Mellvang-Berg
Før 5. serierunde (Blackpool B): Trygve Ellingsen
Før 4. serierunde (Coventry H): Sam Manton
Før 3. serierunde (Sunderland B): Ståle Håheim
Før 2. serierunde (Tranmere H): Torkil Risan
Før 1. serierunde (Shrewsbury B): Joakim Ellingsen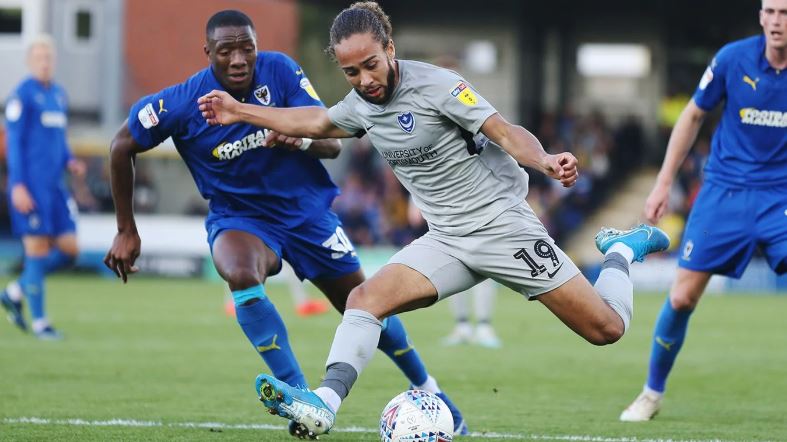 Marcus Harness.