Vår ferskeste medlem, Sam Manton (t.v.), er i kveld på plass på Fratton Park for å se Pompey slå Coventry City.
---
SUPPORTERINTERVJUET: Etter at medlem nummer 1, 2 og 3 stilte til supporterintervju de tre første serierundene, valgte Joakim Dahl (vår medlem nummer 4) å stå over – noe som selvsagt er lov. Dermed fikk vår ferskeste medlem – medlem 104, Sam J W Manton sjansen denne runden.
Han er bosatt i Oslo nå, men er engelsk og intervjuet foregår derfor denne gangen på engelsk.
Pompey won the Checkatrade Trophy, but finished 4th and lost in the semi final in the play-offs. What do you think of Pompey's 2018/19-season?
– I thought the checkatrade trophy (CTTF) win was fantastic. The match itself should have been over at HT for Pompey but they stuck with it. The timing of N. Thompson's goal was excellent, and it gave us the motivation in ET. Jamal Lowe's goal was a thing of beauty, and reminded me of that fantastic day at Notts County a few years back. As it turned out, that final would be the highlight of the season. I thought we were terrible in the playoffs. We lacked fight against Sunderland, which was a complete contrast to the CTTF. Deservedly so we lost and that was the end of our season. Lots of positives, let's hope for more this season.
What are your hopes and expectations for Pompey this season?
– I think it always has to be promotion. I think we have recruited well. John Marquis is the best striker in the league, and has been for a few seasons, I think he's a real good addition. Lowe is impossible to replace but I think Harness will do a good job on the wing. I think Harrison is a nuisance up front. He doesn't stop running, and really caused problems for Birmingham in the cup. I think we will go up this season, hopefully 1st or 2nd but probably through the playoffs knowing Pompey.
Three points after three games in the league, and a win against Birmingham in the league cup. What do you think about Pompey's start to the season?
– I think it's OK. It's very hard to top last seasons start. We didn't look bad against Shrewsbury. I thought the changes in the cup were great. The difference this season is the squad depth I feel. That was a good win, and I believe that we could win again against QPR to be honest. The Sunderland loss was frustrating. Our defending wasn't great, our crosses were even worse. It was all rather predictable. But it's a nice match to get out the way, and I think it's nothing to worry about after 3 league games.
Are you going to Fratton Park this season?
– As you read this I'm probably a few pints in at the crook around the corner from Fratton. I'm heading to my first match tonight. My best friend from Australia is over in England. He's from Portsmouth so we are heading down. As I live in Oslo I don't make as many matches as I used too. But I always like to make it to Fratton a few times a year and get in as many away days as possible too.
How do you keep yourself up to date on Pompey (matches, news etc)?
– Twitter is great. Lots of Pompey related news and moaning which is very English! I love having access to watching the matches live whilst living in Norway. You don't even get this in England if you can't make it to a match so that's great.
What do you think about our manager, Kenny Jackett (bildet til høyre)?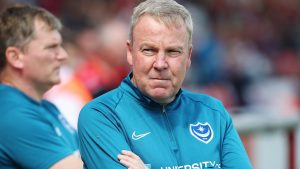 – Well I think he will get us out of the league, and I think it will be this season. I will always 100% back the manager and the players when they play for Pompey and get behind them. Having said that I don't like his particular style of play. It's not easy on the eye, and all the long balls are painful to watch sometimes. He's got us results. But I think it would be nice to see him a little less stubborn with his formation and tactics at times, and hopefully that will make our team less predictable. He's a nice bloke though.
Have you got a favourite player at Pompey this season?
– I'm a massive fan of Christian Burgess. I think he's been rocksolid for a while for Pompey. He's a great leader, a top bloke, and he went to uni with someone I know!
Now it is Coventry at home. What do you think about that match and what is your starting eleven? What do you think the score will be?
– It will be tough. I thought they played well at Fratton last season and looked a good team. Surprised they let
Chaplin go also. I think Pompey will win 3-1. I would make a few changes from Saturday. There's talk of bringing Mccrorrie in at RB for Walkes. Walkes has been a little shakey the last couple of games but I'd still stick with him there, he was up against the best left sided winger in the league on Saturday. I would like to see Haunstrup in for Brown. But I doubt that will happen. I would stick with Marquis up front. And I've been impressed with Andy Cannon. So maybe just 1 change actually. It's a hard job for Kenny at the moment with so many options.
What do you think about our promotion chances this season?
– I think they are high with the signings we've made. I think we have a better squad than we did have last season. There was no way we could keep Clarke after staying in league 1. It was a shame Lowe had to go but that's football. I think we will be playing championship football next season. It will be a big worry if we don't I think.
Have you got a message to your fellow Pompey-supporters in Scandinavia?
– Beer in Oslo? Hit me up 🙂 It was lovely to meet a few of you at the supporters tournament in Oslo a few months ago. I think it's so cool to have many Pompey fans over here.
I miss seeing Pompey play week in week out, but it's great to be involved with the Scandinavian supports club over here. Look forward to meeting you all.
---
Her er tidligere supporterintervjuer denne sesongen:
Før 3. serierunde (Sunderland B): Ståle Håheim
Før 2. serierunde (Tranmere H): Torkil Risan
Før 1. serierunde (Shrewsbury B): Joakim Ellingsen
Christian Burgess