Sergio Fox tror Pompey slår til med sesongens største seier når Accrington Stanley kommer på besøk til Fratton Park på lørdag.
---
SUPPORTERINTERVJUET: Vi fortsetter med supporterintervjuet med medlemmer med medlemstall mellom 70 og 80. Denne gangen skal vi til Danmark hvor Sergio Fox bor. Vår medlem 77 er bosatt i Roskilde, men er født i London. Her er Sergios tanker før lørdagens hjemmekamp mot Accrington Stanley.
Spørsmålene er på norsk, svarene på engelsk:
Det ble 8. plass forrige sesong. Hva er dine tanker om det Pompey presterte i 2020/21?
– Well, could have been worse 🙂 But they seem to have lost their way a bit in recent seasons …
Hva var dine tanker og forventninger til kommende sesong? Har du nå troen på play-off/opprykk? Hvilke lag tror du rykker opp?
– Eternal optimist! I always think they're going up! Could happen even now, they're playing some of the top teams soon, and that often suits Pompey better!
Hva synes du om Pompeys sesong så langt?
– Very confusing. You never seem to have any idea how they're going to play, or even which players or tactics they're going to use.
Har du planer om å få til en tur over for å se Pompey denne sesongen?
– We often had a family return to Pompey over Easter (before Corona), and I'm going over this Easter with just my second son, who's getting a Pompey tattoo! He's been waiting two years now!
Hvordan holder du deg oppdatert på Pompey (kamper og nyheter)?
– Mostly from the home page, but my sons (and son-in-law) are first to tell me if something happens 🙂
Har du noen favorittspillere i dagens Pompey-spillerstall?
– Well, it's a bit difficult to keep up with all the changes. We were big fans of Lee Brown, a real Pompey type of player (for us). We like Raggett and Harness too.
Hva er dine tanker om brødrene Cowley?
– Bit too much London about them. OK, Harry was too, but he was Harry 🙂 Too many changes all the time for me, in the squad and in the match teams too. Can't quite see the logic in it all.
Nå er det hjemmekamp mot Accringtoj. Hva er dine tanker om denne kampen, hva er din startellever og hvordan tror du kampen ender?
– Definitely 5-0 to Pompey. High time they really clicked as a team. But I'd go a bit more basic than the Cowleys, with more defenders and more strikers and a more direct style of play 🙂 Bazunu, Freeman, Raggett, Ogilvie, Carter (and they stay as a back four), push Romeo forward into midfield with Harness and Jacobs (or Curtis?), with O'Brien, Walker and Hirst up front. Long balls from the back, and an attacking midfield …
Har du ellers noe du vil si til resten av de skandinaviske Pompey-supporterne?
– Hello everyone! Greetings from an old Leigh Park and North End Pompey man! Could be fun if we all met up for some Pompey something, there's quite a lot of us it seems. Get Pompey over for a pre-season tour of Scandinavia and have a pre-season Pompey-party somewhere? Bye from Sergio.
---
Tidligere supporterintervjuer denne sesongen:
Før 33. serierunde: Oxford United (H): Erlend Uglem
Før 32. serierunde: Fleetwood (H): Eirik Kløw
Før 31. serierunde: Shrewsbury (B): Teodor Kold Knutsen
Før 31. serierunde: Crewe (B): Ed Binks (kampen ble utsatt)
Før 30. serierunde: Doncaster Rovers (H): Jon Romuld Håversen
Før 29. serierunde: Burton (H): Mathias Eide
Før 28. serierunde: Oxford United (B): Asbjørn Stokken
Før 27. serierunde: Charlton (H): Anton Jonasson
Før 26. serierunde: Sunderland (B): Paul Richards
Før 25. serierunde: AFC Wimbledon (B): Per Gustavsson
Før 24. serierunde: MK Dons (H): Lars Håvik
Før 23. serierunde: Cambridge United (B): Marius Kastet
Før 23. serierunde: AFC Wimbledon (B): Alexander Thorsen (kampen ble utsatt)
Før 22. serierunde: Morecambe (H): Magnus Smith
Før 21. serierunde: Sheffield Wednesday (H): Trond G. Nedal
Før 2. runde i FA-cupen: Harrogate Town (H): Michael Pantling
Før 20. serierunde: Gillingham (B): Mark Raine
Før 19. serierunde: Lincoln City (B): Christian Knapp
Før 18. serierunde: AFC Wimbledon (H): Eirik Bøen Gravdal
Før 17. serierunde: Wycombe (B): David Gunnarsson Lorentzen
Før 1. runde i FA-cupen: Harrow (H): Bo Gareth Johansen
Før 16. serierunde: Cheltenham (H): Håvard Myhre
Før 15. serierunde: Bolton (H): Øyvind Velde
Før 14. serierunde: Accrington Stanley (B): Bjarte Hope
Før 13. serierunde: Ipswich Town (H): Martin Grimstvedt
Før 12. serierunde: Rotherham (B): Mange Nilsson 
Før 11. serierunde: Sunderland (H): Steen Houman
Før 10. serierunde: Burton Albion (B): Kenneth Johansen
Før 9. serierunde: Charlton (B): Duncan Griffin
Før 8. serierunde: Plymouth (H): Torgeir Melvær Nesse
Før 7. serierunde: Cambridge Utd (H): Jean Robert Tankred
Før 6. serierunde: MK Dons (B): Atle Stray
Før 5. serierunde: Wigan (B): Joakim Ellingsen
Før 4. serierunde: Doncaster (B): Camilla Nilsen
Før 3. serierunde: Shrewsbury (H): Pål Alexander Lea
Før 2. serierunde: Crewe (H): Trygve Mellvang Tomren-Berg
Før 1. runde i ligacupen: Millwall (B): Ståle Håheim
Før 1. serierunde: Fleetwood (B): Torkil Risan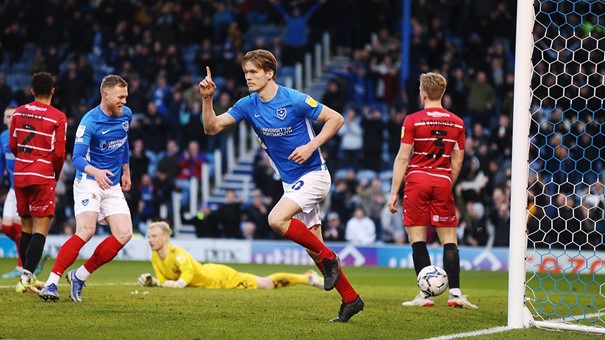 Sean Raggett.