Pompeys unggutter skuffet hjemme på Fratton Park i 2. runde av FA Youth Cup.
---
AKADEMIET: Hjemme mot Bromley tok Pompey ledelsen 1-0 ved Harry Anderson, men Bromley slo tilbake med to scoringer og vant noe overraskende 2-1. Pompey var redusert på grunn av skader og suspensjoner, men det var likevel skuffende å ryke i FA Youth Cup for Bromley.
Både førstelagsmanager Kenny Jackett og kaptein Tom Naylor var blant tilskuerne på Fratton Park i kampen som ble spilt forrige onsdag.
LES OGSÅ: Er med i toppen
Pompey (4-3-1-2): Manderson; Setters, Kaba, Cadman, Bridgman (Payce 90+3); Dawson, Jewitt-White, Dockerill; Lee; Brook, Anderson.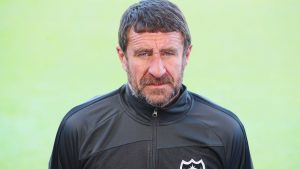 Akademimanager Liam Daish: «I'm really disappointed for them. I looked at the injuries and suspensions and wondered whether it was going to be our night. Take the winning goal, when our strongest header of the ball was taken out and the referee tells him he can't come back on the pitch.»
"Good luck to Bromley and we just have to take it on the chin, but some of the performances out there were really positive. That team and the bench was built up with first year scholars and members of the under-16 side, while Harry Anderson had a late fitness test. He had a groin problem and I'm surprised he lasted the 90 minutes, while Harvey and Charlie are massive players for us and were missing.»
"I can't fault the commitment of our side and if we'd managed to get that second goal, I think it would have changed things. You've got to give Bromley credit for sticking in there and when they got their chance at the end, they took it. But we'd been waiting for this fixture for the past six weeks and couldn't play it when we had a full squad. Perhaps it wasn't meant to be."
---
I helgen spilte Pompeys akademigutter så sin siste kamp for året. Det endte 2-2 borte mot Exeter.
Pompey ledet både 1-0 og 2-1, etter scoringer av Harrison Brook og Charlie Bell (straffe), men Exeter slo tilbake begge gangene. Dermed endte det med poengdeling i årets siste kamp for akademiet. Nå venter et par ukers juleferie.
Trener Liam Daish: «It was an early start on Saturday for the long trip to Exeter, but we got off to a great start. We did really well down the left and it was a great cross from Alfie and then a neat finish from Harrison. At that point we were looking pretty much in control, only to concede an equaliser late in the first half.»
"Charlie took his penalty well to restore our lead, but we didn't deal with the ball in our penalty box properly and that allowed our opponents to level again. There were chances for us to score again and it was a good game overall – it usually is when we face Exeter. It was a positive performance from the lads and we were looking for a response to the disappointment of our cup exit against Bromley earlier in the week.
"We had injury problems again, though, and were without our top scorer Harry Anderson because of his groin problem."
Pompey: Manderson; Setters, Kaba, Cadman, Rew (Spurway 65); Jewitt-White, Bell; Dawson, Lee (Payce 46), Bridgman; Brook
Harrison Brook scoret Pompeys første mål i 2-2-kampen mot Exeter i helgen.