En oppdatering på Charlie Bell og akademiets resultater de siste to månedene.
---
AKADEMIET: I vår forrige artikkel om akademiet, fortalte vi om Pompeys variable sesongstart. Seier, tap og uavgjort var fasiten etter tre kamper. Etter tolv kamper er Pompey nummer tre på tabellen. Bournemouth topper foran Oxford. Slik ser tabellen ut i skrivende stund:
Her kommer en oppdatering på hvordan det har gått siden sist.
I sesongens fjerde kamp vant Pompey hele 7-2 borte mot Yeovil. Kampen skulle egentlig vært spilt noe tidligere i høst, men på grunn av heftig regn ble kampen avbrutt på stillingen 2-0 til Pompey. Nå skulle det gå enda bedre.
Målene ble scoret av Harry Anderson 2, Dan Cadman, Kristian Dawson, Charlie Bell, Harvey Rew og Harrison Brook.
Trener Liam Daish: «We were very much on the front foot throughout the contest, working extremely hard both in and out of possession. The lads went out there with the right attitude and got exactly what they deserved. I'm delighted for them. There were plenty of chances created and we could have scored even more, but the goals we did get were well taken. Everyone brought something to the table and their application was first class, while we played the game in the right manner.
"I thought that Harry Jewitt-White was the standout performer, showcasing his energy after returning from a Welsh training camp. We also brought on Elliott Simpson and Benjani from the under-16s in the second half. It was their first real involvement at this level and they both looked bright."
Pompey: Pitman; Setters, Kaba, Cadman, Hughes (Benjani 61); Jewitt-White, Rew; Dawson (Bridgman 46), Bell (Simpson 61), Brook; Anderson
---
Pompey kom tilbake etter å ha ligget under 0-1 og vant til slutt 2-1 hjemme mot Exeter. Harrison Brook og Kristian Dawson sto bak forarbeidet da Charlie Bell utlignet. Harry Anderson (bildet) ble matchvinner etter å ha scoret på et innlegg fra Harvey Hughes.
Trener Liam Daish: «We started well and it was a competitive contest – which you always get against Exeter. The football was really entertaining throughout and the game was played in the right spirit by both sides. Our opponents put us under a little bit of pressure and they went ahead just after half-time, but we fought back and equalised. That changed the momentum a bit and although we still had to defend at times, we looked really dangerous on the break and got the winner.
"The lads have come up how they want to be perceived, with 'hard-working', 'creative' and 'togetherness' all used. Anyone who watched the match will know that's not just a bunch of meaningless words. It was a good performance against a decent, physical side."
Pompey: Pitman; Setters, Kaba, Cadman, Hughes; Jewitt-White, Rew (Lee 68); Dawson (Bridgman 56), Bell, Brook; Anderson (Gifford 75)
---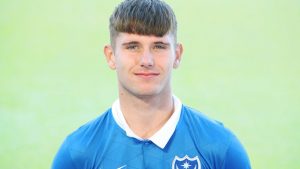 En utligning like før slutt sørget for at det endte uavgjort 4-4 borte mot Plymouth. Målene til Pompey ble scoret av Alfi Bridgman (bildet), Seok Jae Lee og Harry Anderson 2.
Trener Liam Daish: "I'm sure it would have been an exciting game to watch for a neutral, but not so enjoyable for the coaches on the sidelines. We don't like to make excuses, but had a tough game at the weekend and then an early start to get down to Plymouth.
"We need to work more on our processes and getting those decisions right because we did get out of jail with a point."
Pompey: Pitman; Setters, Kaba, Cadman, Rew; Jewitt-White (Hughes 60), Bell; Bridgman (Dawson 74), Lee (Gifford 66), Brook; Anderson
---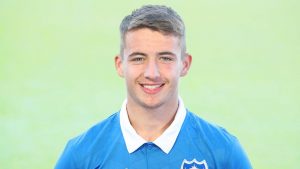 I Youth Alliance Cup blir det ikke noe cupeventyr i år. Etter å ha spilt 1-1 borte mot Oxford, ble det tap 1-3 på straffer. Dan Cadman (bildet) scoret Pompeys mål.
Trener Liam Daish: «We played very well and it was a return to the performance levels shown in our recent league win over Exeter.
"We made good decisions, passed the ball around with confidence, dominated possession and opened our opponents up on a few occasions. Dan did well to attack the space from a very good cross and it meant we were deservedly ahead at the break. But then the heavens opened at the start of the second half. The wind and rain were against us and it was almost unplayable at times.
"We struggled to deal with that and the momentum started to switch to Oxford, although we stuck in there. Then there was a bit of controversy, as we thought we should have had a corner, but the decision went the other way and they broke up the pitch to equalise. It meant the tie went to penalties and we unfortunately missed a few of ours to go out of the competition. But there were a lot of positives and it was a good all-round display – we looked in control before the elements made everything a bit frantic.
Pompey: Pitman; Setters, Kaba, Cadman, Rew; Jewitt-White, Bell; Dawson (Bridgman 35), Lee (Gifford 80), Brook (Hughes 71); Anderson
---
Få dager senere møtte Pompey Oxford igjen. Denne gangen ble det et stygt tap. Pompey tapte 2-6 mot Oxford. Målscorere for Pompey var Harry Jewitt-White og Charlie Bell (straffe). Jewitt-White ble også utvist.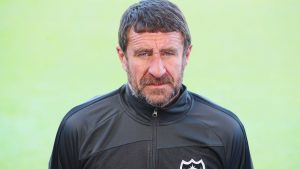 Trener Liam Daish (bildet): «We started the game very well and were disappointed to concede from our opponents' very first attack.
"The conditions were terrible and I think Leon misjudged things in the strong winds, as the ball swirled into the net. We got back into the game, though, and had chances to go ahead, but made the wrong decisions and conceded some poor goals by our standards.
"Harry was then sent off just before the break. It's something he's going to have to learn from and it left us a man down for the whole of the second half. There was another freak goal that Oxford scored due to the conditions and also a mix-up between Dan and the keeper, so it was a tough day for us.
"We still created enough opportunities to get something from the game – even when we were down to 10 men – but our discipline and decision making let us down at times.»
Pompey: Pitman (Manderson 59); Setters (Gifford 64), Kaba, Cadman, Rew; Jewitt-White, Bell; Bridgman (Hughes 64), Lee, Brook; Anderson (Dawson 64)
---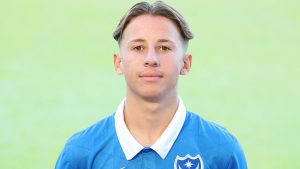 Pompey er klar for 2. runde i FA Youth Cup etter å ha vunnet 4-2 mot Didcot Town i 1. runde hjemme på Fratton Park. Didcot Town ledet 2-0 til pause, men Pompey scoret fire mål i 2. omgang (de to siste helt på slutten) og hindret et pinlig nederlag. Målene til Pompey ble scoret av Harvey Rew, Kristian Dawson (bildet), Seok Jae Lee og Harrison Brook.
Trener Liam Daish: » "Didcot came out of the blocks extremely quickly and pressed us very well. That put us on the back foot and before we knew it we found ourselves two goals down at home. We were a bit shell-shocked and they deserve a lot of credit for that. I was glad to get the boys in for half-time, so we could try to get a plan together to go on and win the game.
"To be fair to them, they showed a bit of character and resolve to fight back and get through to the next round. We warned our players not to underestimate the opposition because it was always going to be a big match for them at Fratton Park. They were going to be up for it. It's a new experience for our lads as well, though, and it's something that will certainly stay with them.
"We need to learn to make better decisions because we'll be facing another non-league side in the next round."
Pompey: Manderson; Setters, Kaba, Cadman, Hughes; Bell, Rew; Brook, Lee, Bridgman (Dawson 74); Anderson (Gifford 74)
---
I en hjemmekamp mot Newport ble det et skuffende 1-1-resultat. Målscorer for Pompey var Seok Jae Lee (bildet).
Trener Liam Daish: «We had a few players who were missing for us because they need to take a Covid test. None of them are showing any symptoms, but were required to isolate because of other people in their household.
"It as always going to be tough because of the effort we produced – particularly in the second half – to battle back and beat Didcot in the FA Youth Cup earlier in the week. But there was a lot of commitment shown by our players and we were just missing a little bit of quality on this occasion.
"We were running on empty and could have done with a few more boys available. They stuck in there, but it was a war of attrition at times. Josh Dockerill came in for his U18s debut and well. He didn't look out of place for such a young lad and we were delighted with his performance. Seok Jae gave us the lead with a good finish, but we conceded soon after. There were opportunities for us to win the match, but we might also have lost it.
"It's useful experience for the lads to come through these difficult perods when you're a few players down and the games come thick and fast."
Pompey: Pitman; Setters, Rew, Hughes, Dawson; Bridgman, Bell; Lee, Dockerill, Brook; Gifford (Benjani 70)
---
Harry Anderson scoret tre mål da Pompey slo Bristol Rovers 5-1 på bortebane. Seok Jae Lee og Charlie Bell scoret de to andre målene for Pompey.
Trener Liam Daish: «We started really well, looked after the ball and were patient in possession. We moved it around quickly when required and didn't try to force things, while we scored some really impressive goals and were creative.
"Harry got his hat-trick and I was pleased with his second, which saw us lose possession, but then work hard to win it back immediately. Seok also took his goal very well and Charlie's strike was a fine effort that gave their keeper absolutely no chance. It was a pleasing all-round display and the players produced a lot of effort to implement what we've been working on in training over the past couple of weeks."
Pompey: Pitman; Setters, Kaba, Rew, Hughes; Jewitt-White (Bridgman 60), Bell; Brook, Lee, Dawson (Cadman 60); Anderson (Gifford 71)
---
Pompey vant 3-0 hjemme mot Cheltenham etter scoringer av Harry Anderson 2 og Seok Jae Lee.
Trener Liam Daish: «I'm really pleased. We're starting to see a real identity about the way we play. Everyone's bringing something to the table and we're working hard as a team, while the lads are making good decisions.
"After going three goals up we were able to get some fresh legs on and give some other players a bit of game time.
"It's a bit of a busy period for us and we've got another game on Tuesday, so – even though we don't have a lot of options – we might give a few lads a breather."
Pompey: Pitman (Manderson 76); Setters, Kaba, Cadman, Rew; Jewitt-White, Bell; Bridgman, Lee (Brook 55), Dawson; Anderson (Gifford 55)
---
Borte mot Forest Green vant Pompey 2-1. Harry Anderson ga Pompey ledelsen med sitt 14. mål for sesongen. Charlie Bell (bildet) scoret Pompeys andre mål.
Trener Liam Daish: «We got off to a very good start and took the lead with another goal from Harry. The second one came about because we were pressing Forest Green and won the ball high up the pitch, while it was a neat finish from Charlie.
"But we were playing up the slope in the second half and the game turned into quite a scrappy contest. We were in front and so our opponents were able to throw caution to the wind and ask a few questions of us.
"There were chances for us to extend our lead before the penalty, but then we stood up well defensively and saw the match out. It's another good win for us and we're enjoying some decent form at the moment, so want that to continue."
Pompey: Pitman (Manderson 46); Setters, Cadman, Kaba, Rew; Jewitt-White, Bell; Bridgman (Dawson 60), Lee (Hughes 80), Brook (Gifford 74); Anderson
---
Pompey tapte 2-4 hjemme mot topplaget Bournemouth. Harry Anderson scoret begge Pompeys mål.
Trener Liam Daish: «It was a really good game against the side who are top of our league. They always provide a different test to the other sides in the division. But three of their goals came from individual mistakes from us and while you might get away with it most weeks, a team like that will punish you.
"We'd got it back to 2-1 at half-time, but an error meant Bournemouth scored again straight after the break, which set our plans back a bit. Harry got a second and had a great chance to complete his hat-trick and draw us level. He couldn't make the right contact, though, with the ball going off his knee and over the bar. They went straight up the pitch from the resulting goal-kick and scored again to put the result beyond doubt.
"Both sides contributed to a really good game of football, but when you play a side like Bournemouth, everything needs to be that bit sharper. I couldn't fault the application of our players at all, though, and they would have learnt a lot – I wish we could play teams of that calibre every week. It's all about challenging the lads and they need to be stretched. Some might get the chance to start or come on in the Papa John's Trophy on Tuesday and that will be an opportunity to really test themselves.
"They will certainly learn more from games like that, as will the academy coaching staff and the first team manager."
Pompey: Pitman (Manderson 46); Setters, Cadman, Kaba, Rew; Jewitt-White, Bell; Dawson (Simpson 81), Lee, Brook; Anderson
---
Kommende onsdag spiller Pompey 2. runde i FA Youth Cup hjemme på Fratton Park. Bromley er motstander i en kamp som er åpen for tilskuere. Vinneren av kampen skal møte Metropolitan Police eller Swindon.
Harrison Brook.
Kristian Dawson.