For tredje gang på kort tid, henter Brighton dyktige folk fra Pompeys akademi.
NYHETER: Neil Sillett har sagt opp sin stilling i Portsmouth for å begynne i ny jobb i Brighton. Dette er tredje gang på litt over to år at Brighton henter folk fra Pompeys akademi.
Sillett har sin siste arbeidsdag på Fratton Park i morgen, 31. desember. Han begynner i ny jobb i Brighton så snart det står 2020 på kalenderen. Sillett har hatt tittelen «Head of Academy recruitment» siden februar 2019.
Nasjonal talentspeider for Brighton
I Brighton skal han jobbe som nasjonal talentspeider for U18-laget deres. Dermed skal Sillett jobbe sammen med Dave Wright, mannen han erstattet da han ble ansatt i Pompey i februar.
Dave Wright (bildet til høyre) jobbet i Pompey i elleve måneder som «Head of Academy Performance and Recruitment» før han i januar 2019 sluttet for å bli «Academy Recruitment Manager» i Premier League-klubben Brighton.
Ifølge The News er det nettopp Wright som nå har bestemt seg for at vil ha Sillett med seg i sitt team i Brighton.
Brighton kategori 1, Pompey kategori 3
Brighton har et akademi i kategori 1. Sillett vil derfor ha muligheter til å jakte talenter på øverste hylle, med Brightons finansielle muskler. Pompey sitt akademi er i kategori 3 og kan derfor kun rekruttere i et begrenset område. Et område hvor også Southamp***, Bournemouth, Chelsea og Brighton er aktive.
Neil Sillett var faktisk fysioterapeut i Pompey da Jim Smith var manager på Fratton Park på 90-tallet. Han fulgte så Smith til Derby i 1995 og har de senere årene jobbet som speider for både det skotske fotballforbundet og Aston Villa.
Mistet Harris i 2017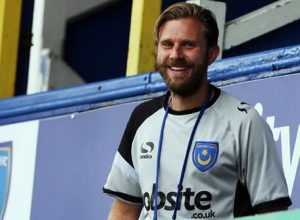 I tillegg til Sillett og Wright, mistet Pompey den populære U18-treneren Mikey Harris (bildet til høyre) til Brighton i november 2017.
Harris er ikke lenger i Brighton. Han forlot klubben i november 2019 for en trenerjobb i det engelske fotballforbundet.