At last!
---
Sådan sang Etta James i et stort soul hit i starten af 60'erne, og sådan må hovedparten af supporterne have følt det da dommerens sidste fløjt endelig bekræftede en længe tiltrængt og ventet sejr til Pompey. To mål efter pausen, hvor vi formåede at løfte niveauet en tand over det som gæsterne havde at byde på afgjorde kampen, og selv om resultatet intet ændrede på at vi indtager en 15. plads i League One betyder de tre points, at der nu er ti points ned til stregen i stedet for syv da andre resultater på dagen spillede ind i vores favør.
Til sin første kamp i spidsen for holdet havde John Mousinho tre ændringer i startelleveren. Helt som ventet snuppede Matt Macey den ledige plads i målet – sandsynligvis grundet hans større rutine. Også vores andet nye ansigt her i januar, Ryley Towler, fik chancen fra start mens Marlon Pack var tilbage efter udstået karantæne. Sidstnævnte bar samtidig anførerbindet.
Den officielle kamprapport
https://www.portsmouthfc.co.uk/news/2023/january/match-report-for-portsmouth-vs-exeter-city-on-21-jan-23/
Eftertanken
Vi fik den hurtige bonus ud af managerskiftet som håbet, men det holdt hårdt, og havde det ikke været for den nyankomne Matt Macey i målet kunne og burde gæsterne have bragt sig foran før pausen. For en gangs skyld var marginalerne med os, og det var det som vi havde brug for i vores situation. Vi taler ganske vist indtil videre blot om en enkelt kamp, men man skal ikke undervurdere betydningen af, efter ti sejrsløse kampe, endelig at hente tre points igen. Det vil give spillerne et løft og en lille smule af troen tilbage. Her kan det godt blive en fordel, at vi allerede skal i aktion igen på tirsdag, hvor det gælder en udekamp mod Fleetwood. Den ser stadig lidt tricky ud men vores udgangspunkt er klart bedre nu hvor den negative stime fik en ende.
Andre resultater fra denne runde
I toppen af rækken skabte hjemmesejre til Plymouth og Sheffield Wednesday afstand ned til 3. pladsen da Ipswich Town samtidig tabte hos Oxford. Derby slog Bolton i deres indbyrdes opgør i play-off zonen mens også Barnsley holdt fast i deres 6. plads med en kneben sejr over Accrington Stanley. I bunden fik MK Dons endelig lidt luft til nedrykningspladserne ved at vinde hos Forest Green Rovers. Samtidig røg Cambridge længere ned i samme morads da de tabte med hele 1-5 i Shrewsbury. Frosthårde baner betød i øvrigt, at en lille håndfuld kampe ikke kunne spilles som planlagt.
Kommentarer fra John Mousinho
"It was an intense first 90 minutes and the result is brilliant, while there are elements of the performance we're thrilled with. They key thing is that it wasn't easy and what earned us the win was the work-rate of the lads in the second half. That was sprinkled with a bit of quality and you get the chance to show that if you do the other side of the game well. It was tough for the lads because of everything that's happened this week and all the changes, while we were facing a really good side. But there are some basic things you need to do in football and we started to win second balls, as well as running beyond to create spaces. We had to defend nine corners in the first half and we did that well, while we had Matt Macey to thank for a couple of magnificent saves. The opening goal just gave us a boost. It got the monkey off everyone's back and we started to find some more belief after that."
"I played with Marlon when he was a young lad and knew he had that potential in him in terms of those leadership qualities. He shows that at the training ground, in the dressing room and on the pitch. I thought it would give him a boost. He's a Portsmouth boy and it really means a lot to him to play for this club, but you need everyone to be a leader – whether you're wearing the armband or not."
League One, Fratton Park, 21. januar 2023
Portsmouth – Exeter City 2-0 (0-0)
57. minut: 1-0 Marlon Pack
74. minut: 2-0 Joe Morrell
Opstillingen (4-3-3): Macey; Swanson, Raggett, Towler, Ogilvie; Tunnicliffe (Thompson '78), Pack (anfører), Morrell; Dale, Bishop, Jacobs (Curtis '69)
På bænken: Oluwayemi, Hume, Hackett, Scarlett, Pigott, Curtis og Thompson
Advarsel: Thompson
Tilskuere: 18.719  –  heraf 1.589 medrejsende Exeter City fans
Post-match interview med John Mousinho
Interview med målscorer Joe Morrell efter kampen
Kampens højdepunkte
Marlon Pack jubler etter sitt drømmemål.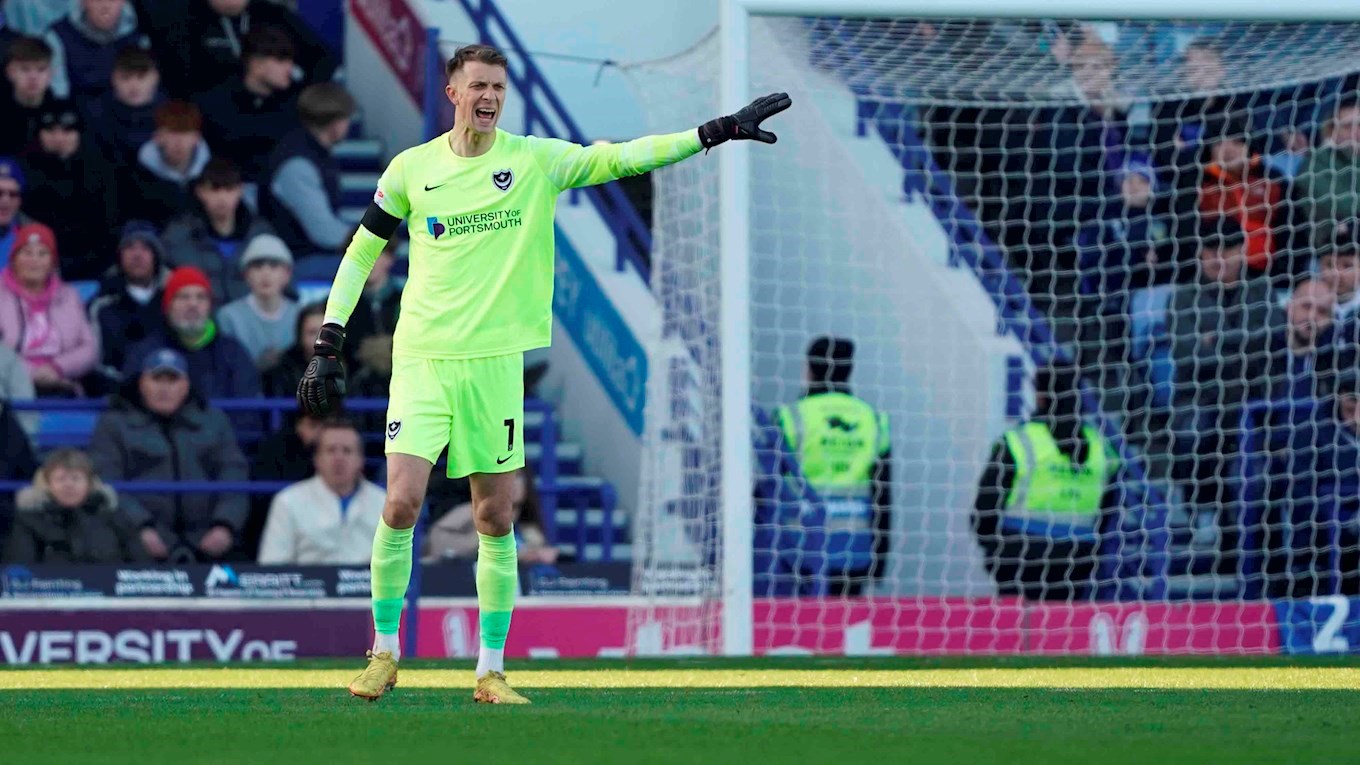 Matt Macey leverte en meget god debut.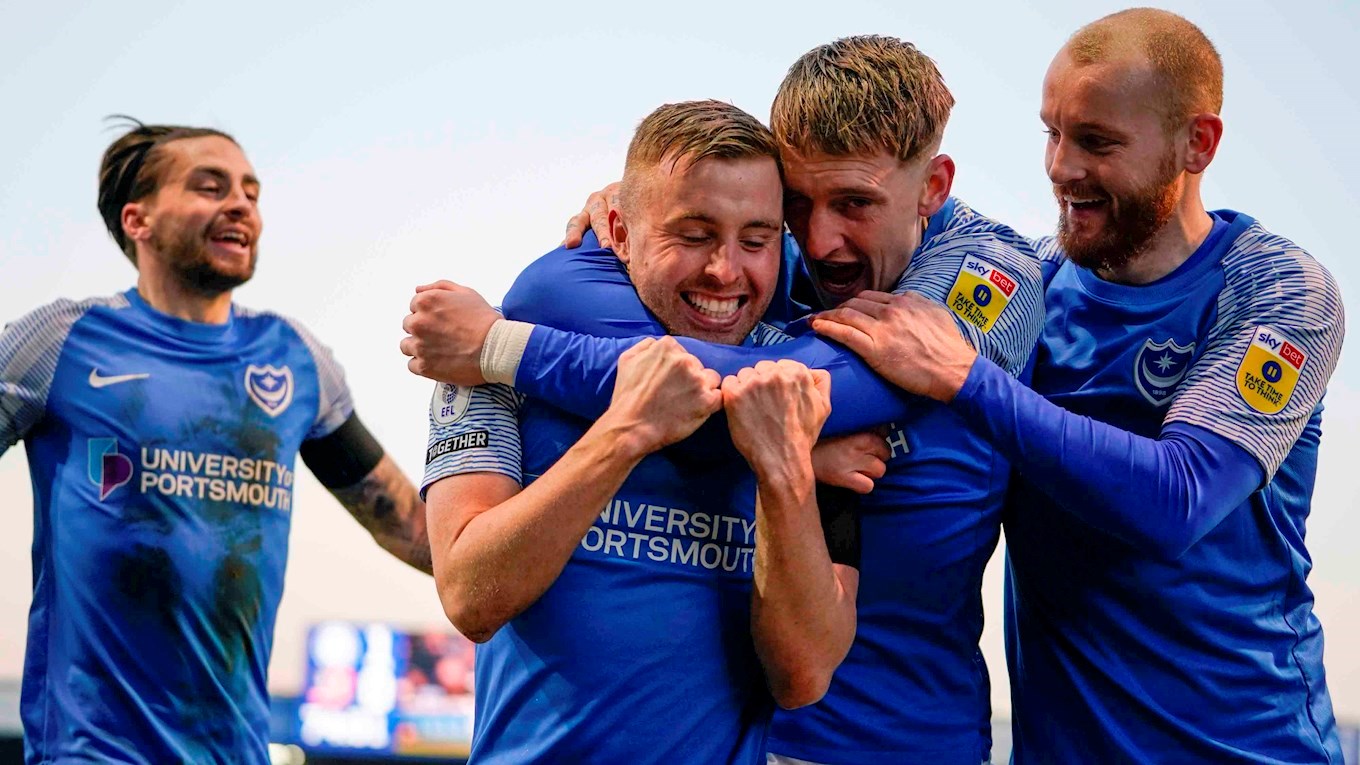 Joe Morrell jubler for sitt første Pompey-mål.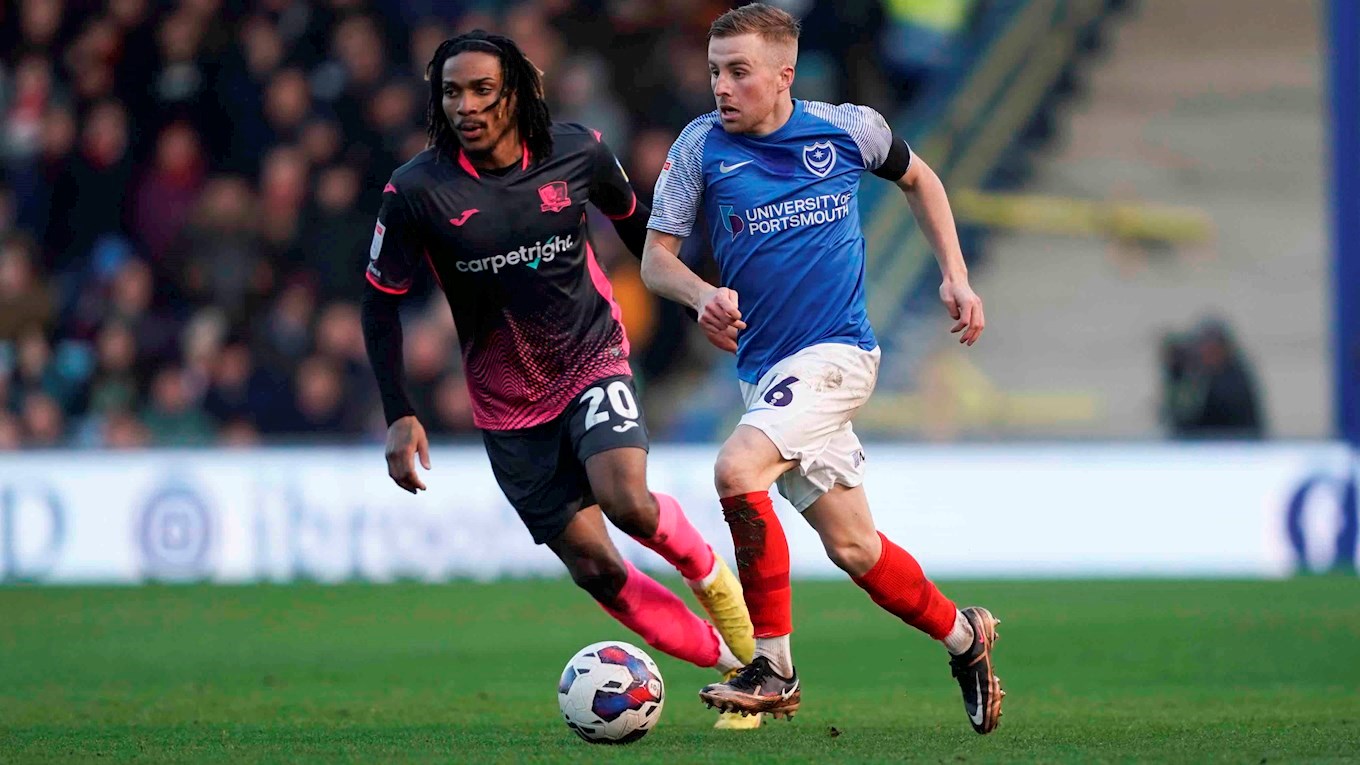 Joe Morrell.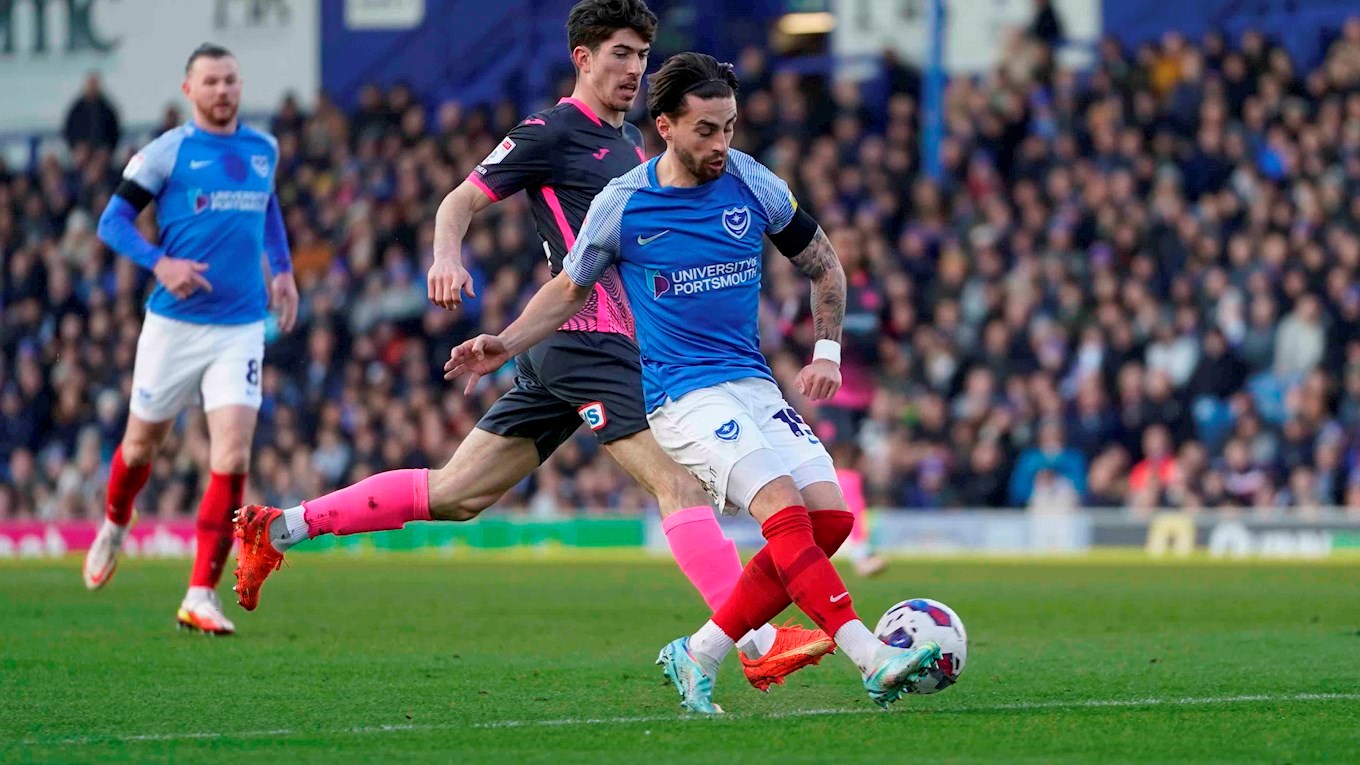 Owen Dale.
Ryley Towler jubler etter seier i sin debut.
John Mousinho.
John Mousinho jubler med Kyle Swanson.