For femte gang på de åtte siste kampene, spilte Danny Cowleys Pompey uavgjort 1-1.
---
KAMPREFERAT: Pompeys skadeliste vokser og vokser. Denne gangen var det Kyle Swanson og Clark Robertson som måtte ut med skade. Marlon Pack fikk seg også en smell på overtid.
I tillegg blir det mye poengtap med alle disse uavgjorte kampene. 1-1 i kamp etter kamp er to poeng tapt. Pompey er fortsatt på play-off, men det er nå svært tett bakover og med lang skadeliste kan det bli tøft å holde seg der framover.
Mot Morecambe kan Pompey takke keeper Josh Griffiths og dårlige avslutninger fra Morecambe for at det faktisk ble ett poeng. Pompey likner ikke en opprykkskandidat for tiden.
Det offisielle kampreferatet
https://www.portsmouthfc.co.uk/news/2022/november/match-report-for-morecambe-vs-portsmouth-on-12-nov-22/
Kommentarer fra manager Danny Cowley
"It was a tough game, but it's a tough league – you only have to look at the other results today to see that. We've had quite a lot go against us, picking up an injury to Tom Lowery at the back-end of the week. Then we lost Clark Robertson, who I thought was the best player on the pitch in the first half. I feared the worst and thought it was his Achilles, but it looks like it's just the ankle.
"They scored with their first shot on target again and it felt like we'd just got some rhythm. It came from nowhere. I also wasn't happy with the way we ended the first half, but then came out and played our best football leading up to our goal.
We found some rhythm and just needed a bit more emotional control at the end when we were trying to win it. I didn't like it at the end because the game got so open and out of control – it became more like a basketball match.
By that time we'd also lost Zak Swanson to a contact injury and Marlon Pack to fatigue. It's needs must at the moment because we keep getting these recurring problems. We want to win every game, but you also only have to look at the league to see how difficult it is to come to places like this and get results."
League One, Mazuma Stadium, 12. november 2022
Morecambe – Portsmouth 1-1 (1-0)
36. min. 1-0 Shaw
67. min. 1-1 Colby Bishop
Pompey (4-4-2): Griffiths; Swanson (Mingi 84), Raggett, Robertson (c) (Hume 46), Ogilvie; Dale (Hackett 68), Pack (Morrison 90+1), Tunnicliffe, Koroma; Bishop (Pigott 84), Scarlett
Ikke benyttede innbyttere: Oluwayemi, Morrell
Gult kort: Pack, Mingi og Hume
Tilskuere: 4,726 (1,057 Pompey-fans)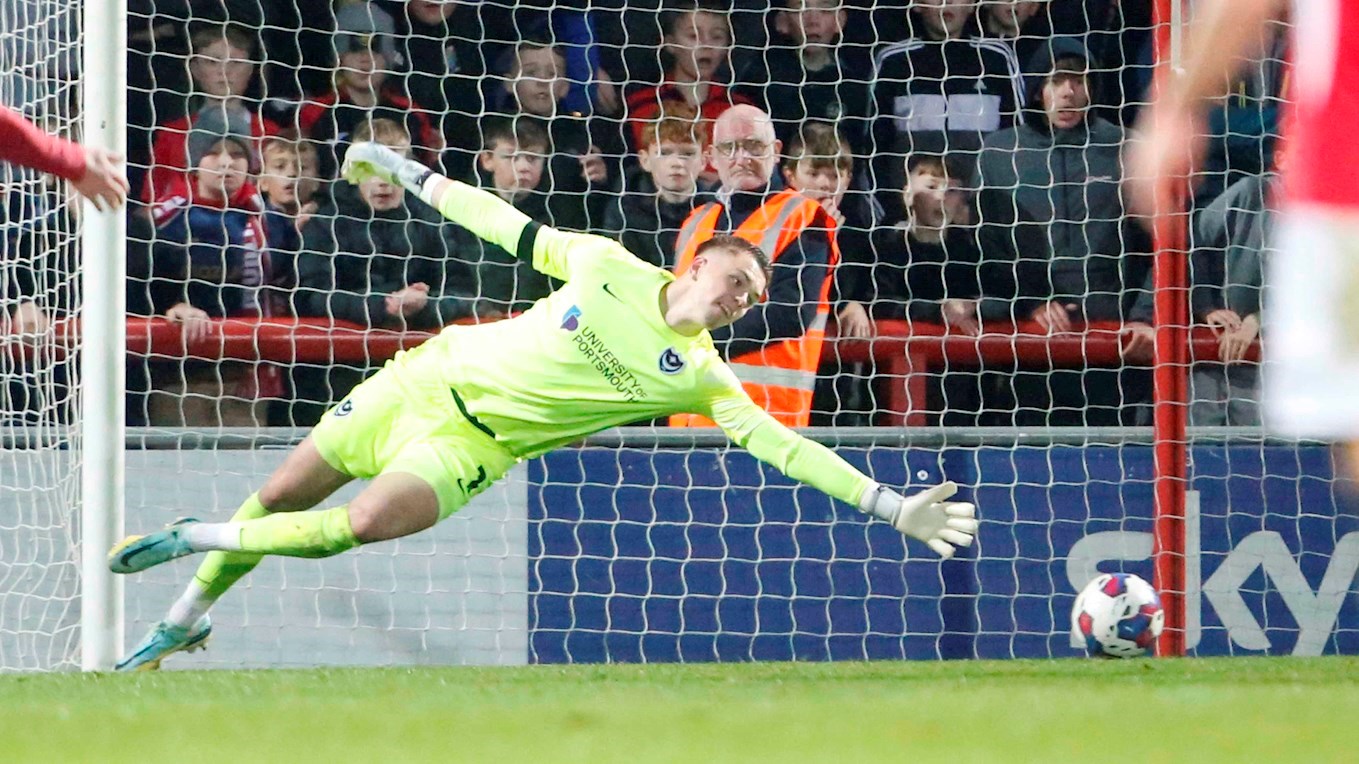 Josh Griffiths hadde flere viktige redninger.