Vi ligger nummer 1!
---
Pompey topper League One – i al fald efter 6. spillerunde. Det står fast efter en sejr på 1-0 hos Port Vale i en kamp som vi dominerede fra start til slut. Lidt malurt i bægeret var der dog også da Michael Morrison måtte lade sig udskifte efter bare ti sekunder som et resultat af et hændeligt sammenstød med hjemmeholdets Ellis Harrison. God bedring til ham. Som ventet blev det til kamp nummer 500 i karrieren for Marlon Pack lige som Sean Raggett fik sin kamp nummer 150 i vores trøje.
Der var to ændringer i startelleveren denne lørdag eftermiddag. Louis Thompson blev logisk nok sorteret fra af åbenlyse årsager, mens også Michael Jacobs måtte se på fra start denne gang. I stedet fik Tom Lowery og Dane Scarlett chancen, og det slap især sidstnævnte godt fra da han scorede kampens eneste mål.
Den officielle kamprapport
https://www.portsmouthfc.co.uk/news/2022/august/match-report-for-port-vale-vs-portsmouth-on-27-aug-22/
Eftertanken
Med 40 kampe igen må der siges at være lang vej hjem, men topplaceringen er særdeles fortjent efter seks kampe, hvor vi har holdt et højt niveau og lavet forholdsvis få fejl når man ser bort fra de første 45 minutter på Hillsborough i sæsonåbneren. Ja man kan faktisk ikke sige, at vi har haft marginalerne med os i nogle af kampene. Det er også en belønning til klubben og dens ledelse, som af uransagelige årsager besluttede at satse lidt og hente flere gode forstærkninger ind i sommerens transfervindue. Disse har i den grad givet truppen et løft, både kvalitetsmæssigt mens også mentaliteten blandt spillerne har nydt godt af at få en så erfaren spiller som Marlon Pack ind. Med konkurrenter som Ipswich Town, Sheffield Wednesday, Derby County, Peterborough United og storsatsende Bolton Wanderers er der ingen garanti for at vi også ligger i toppen til maj næste år, men med denne start har vi givet os selv et rygstød og forhåbentlig også troen på, at vi har kvaliteterne til at begå os i den absolutte top af League One.
Et hurtigt liga-overblik

Vores topplacering er et resultat af at Ipswich og Barnsley delte 2-2 i porten på Portman Road og at Peterborough tabte med 1-2 i overtiden på Pride Park i Derby. Sheffield Wednesday smadrede Forest Green Rovers med 5-0 mens også MK Dons storsejrede og fik kickstartet sæsonen med 4-0 hos Morecambe. Også Plymouth og Oxford hentede sejre mens Wycombe og Charlton skiltes med et point hver. I bunden er Morecambe og Burton stadig uden sejr.
Kommentarer fra Danny Cowley
"It's a really good win against a team who are newly promoted and have made a positive start. It's a super outcome. Dane missed a couple on Tuesday and I didn't worry at all because he's just so single-minded and nothing seems to touch him. He's a young boy and it's his first senior goal and it'll mean so much more because it sealed a hard-fought win. It'll be the first of many for him and it's a great day overall, with Marlon Pack playing his 500th league game, which is an outstanding achievement. Josh Griffiths had nothing to do all game and then finds a save from nowhere right at the end of stoppage-time. We could have been more ruthless and found a second or third goal, but we didn't and had to grind it out. Sometimes these games aren't remembered, but they are so important and can really define your season. We're pleased with the way we've started and the players deserve the credit for how they've come together on and off the pitch."
League One, Vale Park, 27. august 2022
Port Vale – Portsmouth 0-1 (0-1)
25. minut: 0-1 Dane Scarlett
Opstillingen (4-4-2): Griffiths; Rafferty, Morrison (Robertson '10), Raggett (anfører), Ogilvie; Dale (Hackett '76), Pack, Lowery (Morrell '69), Curtis (Jacobs '65); Scarlett (Mingi '76), Bishop
På bænken: Oluwayemi, Pigott, Robertson, Hackett, Morrell, Jacobs og Mingi
Advarsel: Lowery
Udvisning: Ingen
Tilskuere: 8.878 heraf imponerende 1.685 medrejsende Pompey-supportere.
Post-match interview med Danny Cowley
Interview med 500 kamps jubilaren Marlon Pack efter kampen
Kampens højdepunkter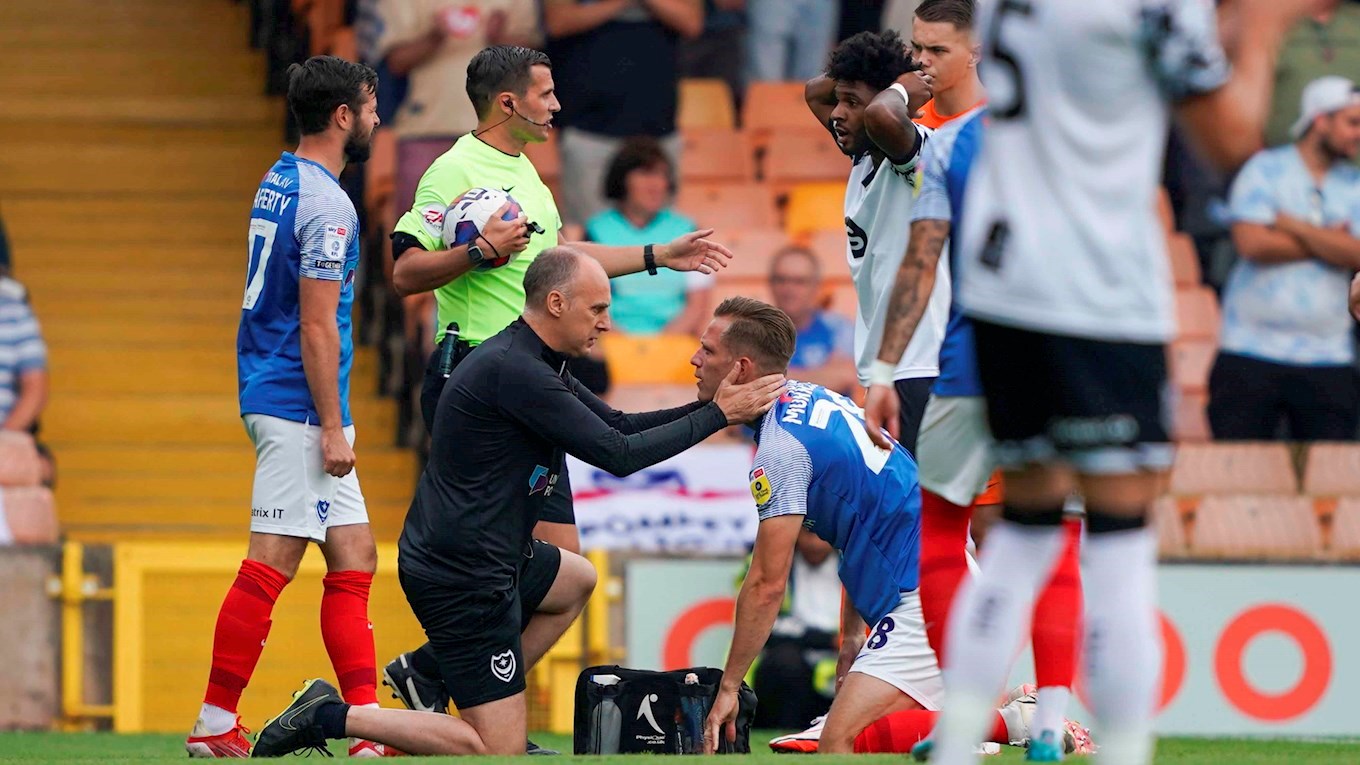 Michael Morrison måtte ut med hodeskade tidlig i kampen.
Marlon Pack.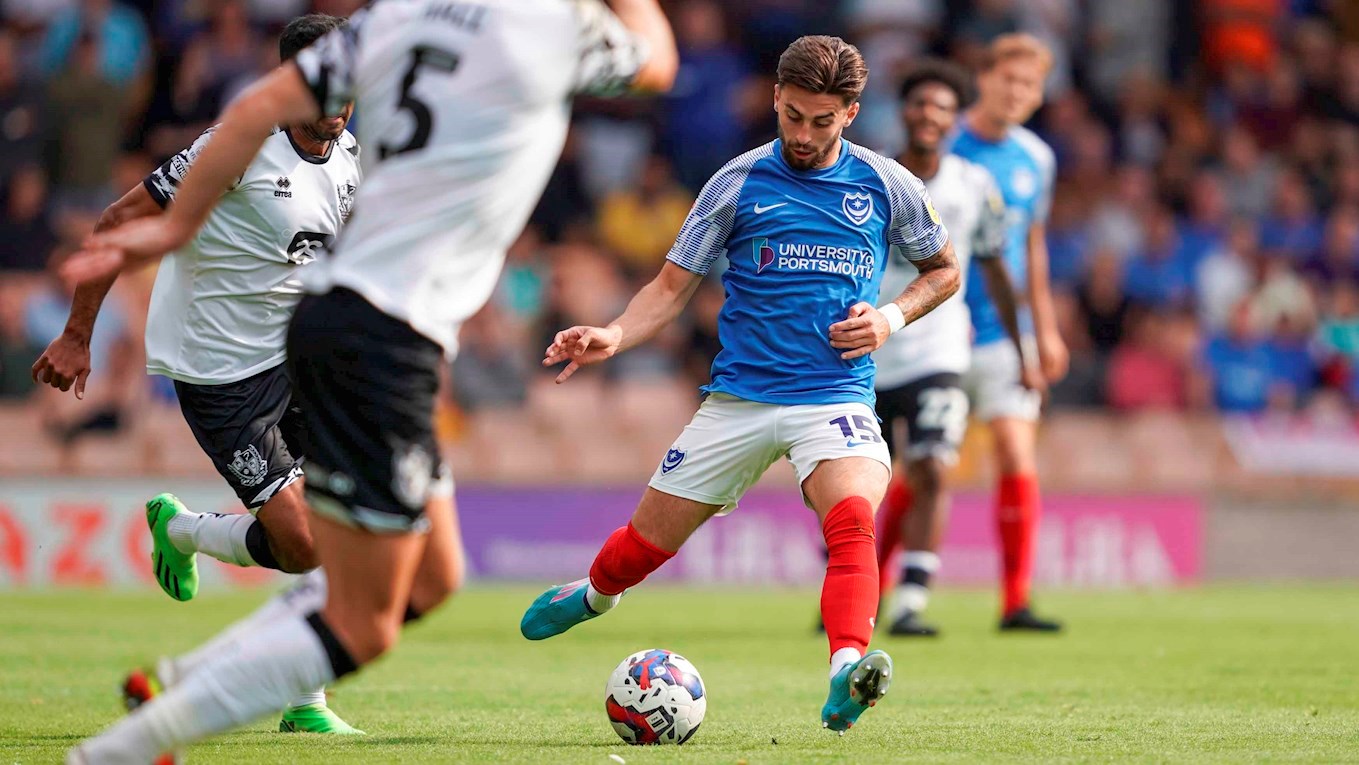 Owen Dale.
Michael Jacobs.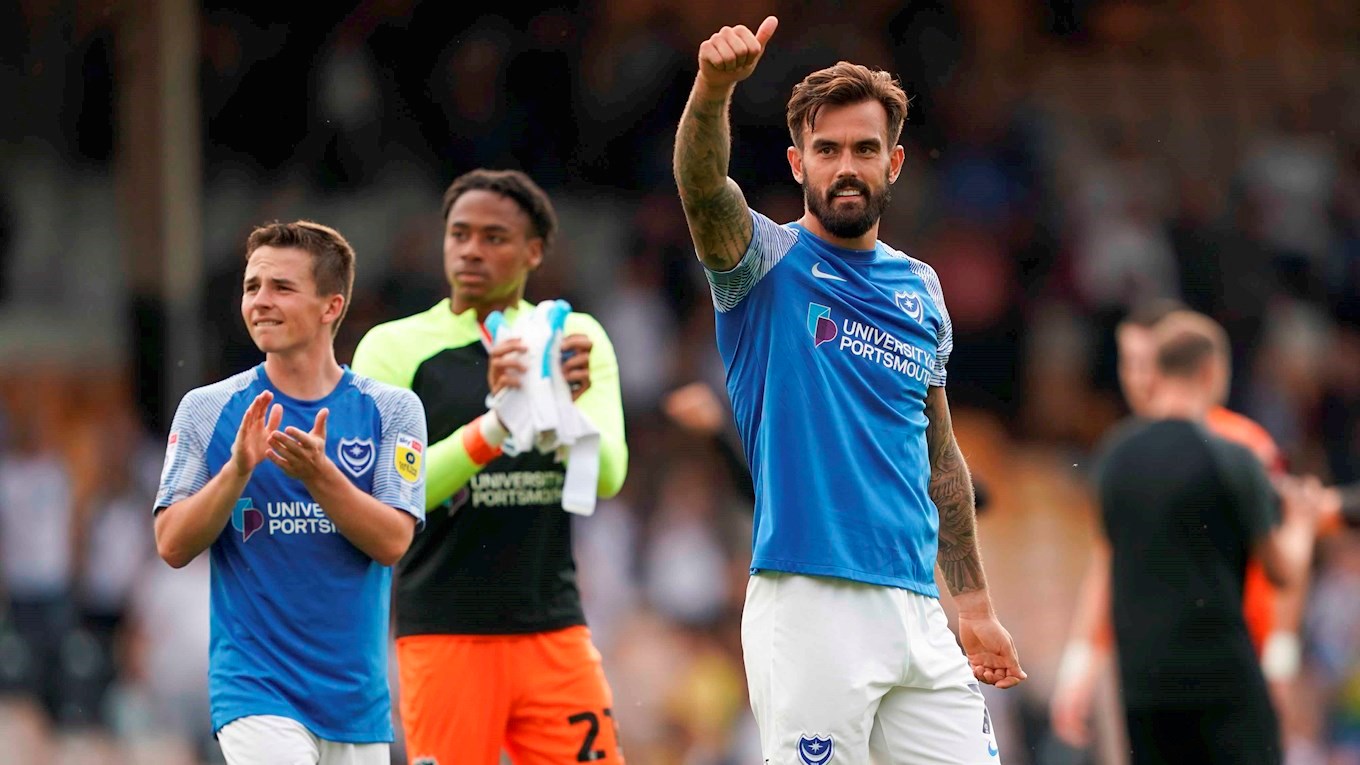 Marlon Pack (t.h.) og Tom Lowery takker fansen for støtten.