Stærk mentalitet bærer os frem
---
Det blev til den anden hjemmesejr i træk og offensiv fodbold da Bristol Rovers blev besejret med 3-1 denne lune lørdag i august. I tabellen medførte sejren dog ingen forskydninger da de to klubber foran os ligeledes vandt, og dermed ligger vi stadig på 3. pladsen i rækken.
Der var to ændringer i startelleveren. Michael Jacobs fik chancen på bekostning af Dane Scarlett mens Tom Lowery måtte vige pladsen for Louis Thompson. De to måtte desværre bytte plads igen efter blot 24 minutters spil efter at en skadet Thompson forlod banen på en båre.
Hos gæsterne havde John Marquis fundet vej til startelleveren igen, og var manden der lagde op til gæsternes udligning til 1-1.
Den officielle kamprapport
https://www.portsmouthfc.co.uk/matches/fixtures/first-team/202223/august/portsmouth-vs-bristol-rovers-on-20-aug-22/
Eftertanken
Før kampen havde gæsternes manager Joey Barton proklameret, at Bristol Rovers var klar til den nødvendige krig for at kunne bestå på Fratton Park. Det tog nogle af hans spillere lidt for alvorligt, og især Glenn Whelan burde skamme sig efter den horrible tackling på Louis Thompson, der for en kort stund måtte have ilt, for derefter at forlade banen på en båre. Det lod hans medspillere heldigvis ikke slå ud af, og set over hele kampen var det helt på sin plads at vi i sidste ende slog udeholdet med to mål. Heller ikke den midlertidige og temmelig pludselige udligning lod vi os slå ud af, og det vidner om en god mentalitet i truppen – godt hjulpet på vej af den fine sæsonstart naturligvis. Der har været tilbageslag og små hurdler i de fem kampe vi har spillet indtil nu, men både i sæsonåbneren mod Wednesday og tirsdag aftens hjemmekamp mod Cambridge lykkedes det os at hente modstandernes respektive føringer. Den stålsathed varer forhåbentlig ved lidt endnu, og er endnu et tegn på, at holdet er af en noget anden støbning end sidste sæsons ditto. Det lover godt.
Et hurtigt liga-overblik
Som tidligere nævnt indirekte så vandt både Peterborough og Ipswich i toppen af rækken deres respektive kampe. The Posh knuste Lincoln City med hele 4-0 mens heller ikke The Tractorboys havde de store problemer med at ordne Shrewsbury med 3-0. Bolton tabte med 2-0 på egen bane til Sheffield Wednesday, Plymouth vandt med 3-0 hos Forest Green Rovers og Wycombe sejrede med de samme cifre hos Barnsley. Derby County smed to points mod Fleetwood Town i et målløst opgør mens også MK Dons måtte nøjes med en remis hjemme mod Accrington Stanley.
Ipswich topper rækken med 13 points, et mere end Peterborough, der til gengæld har et enkelt mere end os på tredjepladsen. I bunden ligger Burton Albion med bare et enkelt point mens heller ikke Morecambe lige over dem har smagt sejrens sødme efter fem kampe.
Kommentarer fra manager Danny Cowley
"It looks like he (Louis Thompson) has got a bad injury from what was a really nasty tackle and we want to send him all our love and best wishes. I don't want to talk about what should have happened in that moment because I want all the focus to be on Louis. I'd much rather put all of my energy into hoping and praying that his injury isn't as bad as I fear it could be. I said at the break that we wanted to try to win the game for him and I'm pleased we were able to do that. He's a very important person and player for this football club, but we know that he's in very good hands. I thought the medical team did a great job and I'll be going straight to the hospital to find out some more."
"It was a good performance and we had control in the game, getting in the right areas and just lacking the final bit of quality. We were in the ascendency after the break, but Bristol Rovers didn't give in and we conceded a poor goal from pretty much their first entry into our box. Suddenly you think 'wow' because it's 1-1 and so I was pleased with the emotional control shown by the players – and the crowd had a massive part in that. Our finishers came off the bench, with Joe, Reeco Hackett and Dane Scarlett all playing a big role in ultimately getting us the win. Joe could easily have sulked, but stayed professional and when the team needed him, he was there. That's what a good squad does. I didn't have a clear view of the two penalty incidents and my initial thought was that neither should have been given."
Et par ord fra Owen Dale efter kampen
"It was a special moment and I'm over the moon – it's a great feeling to score in front of more than 18,000 at Fratton Park. I think that Dane was well within his rights to have a shot in that situation because he's a great finisher. We had a little bit of eye contact and he's put the ball in with a brilliant cross – he put it on a plate for me. He gave me the whole goal to head it into and it's certainly a moment that I'm never going to forget. It's a great victory for us and another game at Fratton Park where I felt like we were in complete control. Even when we went 1-0 down against Cambridge on Tuesday night, I never really felt worried about the situation. I think that it's testament to the attitude of all the boys that we are able to keep recovering from little setbacks. The fans were absolutely fantastic again. They got right behind us and provided us with that bit of extra energy."
League One, Fratton Park, 20. august 2022
Portsmouth – Bristol Rovers 3-1 (1-0)
32. minut: 1-0 Connor Ogilvie
61. minut: 1-1 Aaron Collins
82. minut: 2-1 Joe Pigott (straffespark)
90. minut: 3-1 Owen Dale
Opstillingen 4-4-2): Griffiths; Rafferty, Morrison, Raggett (anfører), Ogilvie; Dale, Pack, Thompson (Lowery '24), Jacobs (Hackett '77), Curtis (Scarlett '64), Bishop (Pigott '77)
På bænken: Oluwayemi, Robertson, Swanson, Lowery, Walker, Hackett, Scarlett og Pigott
Advarsler: Pack, Morrison og Scarlett
Udvisning: Ingen
Tilskuere: 18.842, hvoraf 1.843 var medrejsende Rovers-supportere
Interview efter kampen med manager Danny Cowley
Interview efter kampen med Owen Dale
Kampens Højdepunkter 
Connor Ogivlie med sitt tredje seriemål – fra venstreback-posisjon.
Fratton End.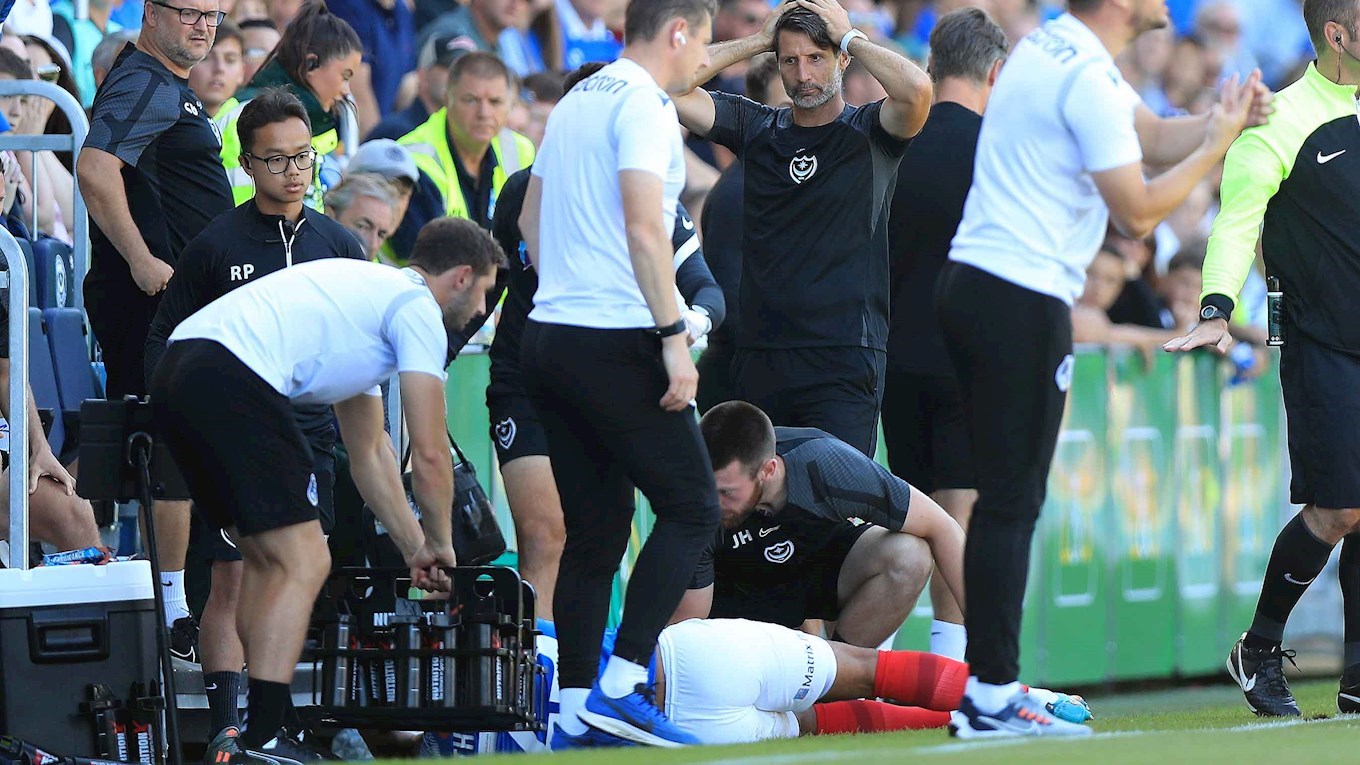 Fortvilelse over skaden til Louis Thompson.
Owen Dale.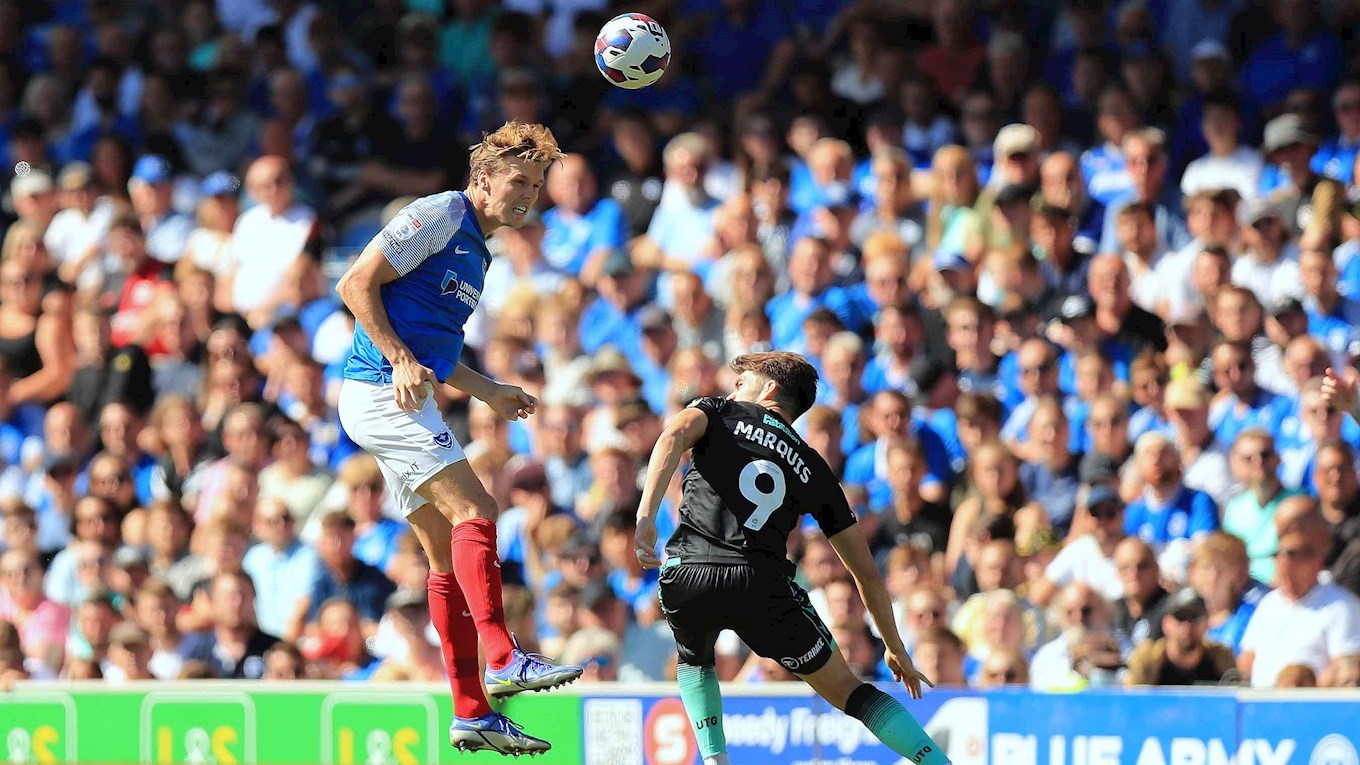 Sean Raggett.
Joe Pigott med sitt første seriemål for Pompey.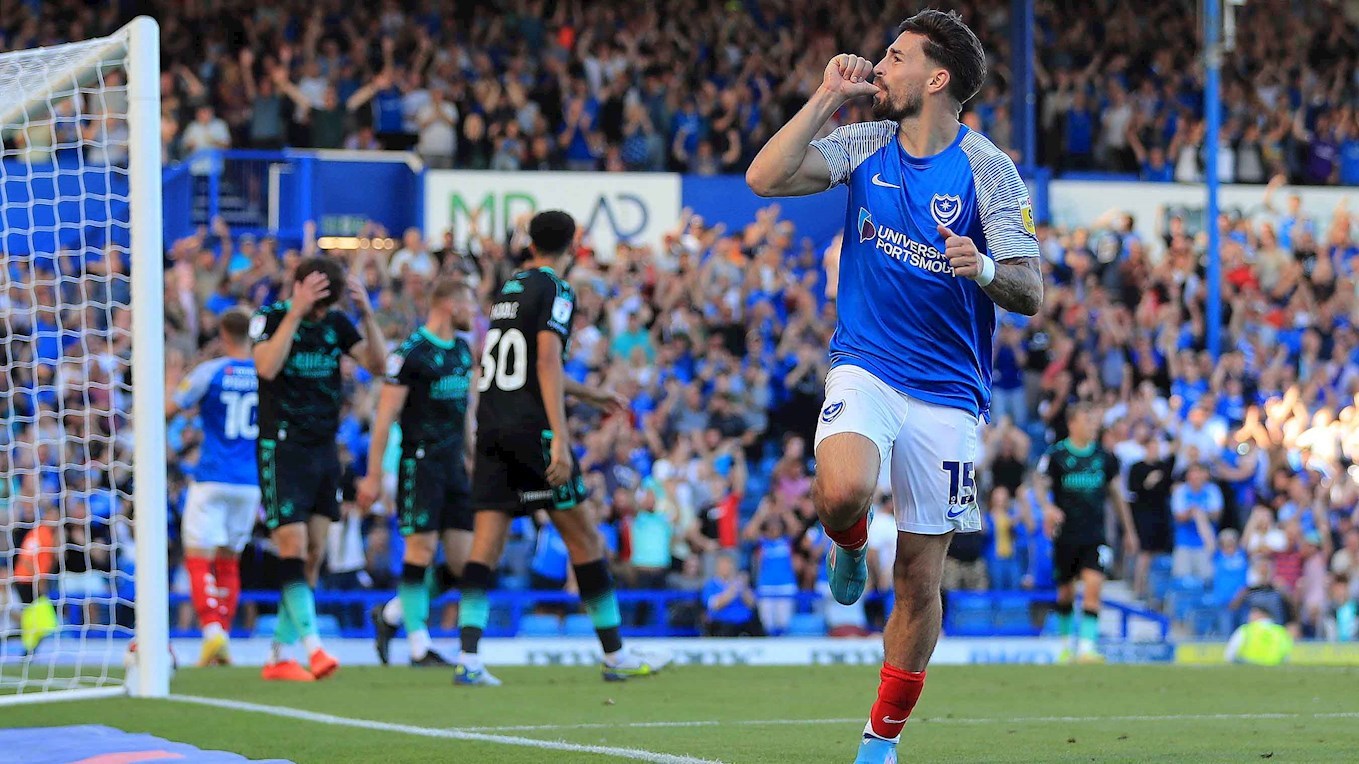 Og Owen Dale med sitt første Pompey-mål.