Et sykdomsplaget Pompey-lag klarte ikke å score på et godt organisert Lincoln-lag.
---
Etter en god serieåpning var det forventet tre poeng hjemme mot nedrykkstippede Lincoln i det som var sesongens første hjemmekamp.
Pompey hadde riktignok god kontroll defensivt, men skapte svært få målsjanser. Danny Cowley fortalte etter kampen om flere sykdomstilfeller i spillerstallen den siste uka og at flere spillere sto over trening fredag. I ettertid innrømmer han at noen av dem kanskje ikke burde spilt mot Lincoln.
Det kan godt være. I alle fall var det svært tamt det som ble prestert offensivt. Dermed endte det 0-0 og Pompey er med sine to poeng på to kamper langt nede på tabellen. Nå gjelder det å få sesongens første seier og sørge for at en er med i toppen fra start av.
Den offisielle kamprapporten
https://www.portsmouthfc.co.uk/news/2022/august/match-report-for-portsmouth-vs-lincoln-city-on-06-aug-22/
Ettertanken
Danny Cowley og hans team har bygget en spillerstall som gir grunn til optimisme blant Pompey-fansen, og før dagens kamp var det mye optimisme å spore. Skuffende at det ble buet på Pompey-laget ved kampslutt – to kamper inn i sesongen – men tålmodighet er tydeligvis ikke mange supporteres styrke.
Nå venter en rekke med Cheltenham borte, Cambridge hjemme, Bristol Rovers hjemme og Port Vale borte før vi i september møter en rekke lag som er antatte konkurrenter om de seks øverste plassene. Pompey bør ta en god del poeng på disse fire neste kampene.
Kommentarer fra midtstopper Sean Raggett
«It's a bit frustrating because I don't think we quite got our game-plan right and we probably went a bit too direct. But this is a new group and there are still a lot of relationships developing, so the more time we spend together, the better understanding we'll have. After conceding three goals at Sheffield Wednesday last week, it was nice to keep a clean sheet. It's just unfortunate that we couldn't find a winner.
We have to take the positives out of this game and then be ready to get straight back to work on the training pitch. The squad is coming together and I think we're in a stronger position than we found ourselves at this stage last season."
Kommentarer fra Danny Cowley
«The attitude and application were good, although that's a prerequisite and so we aways expect that. Keeping a clean sheet is another real positive and I don't think that Lincoln had a shot on target against us. They're a much improved and fitter side, but I didn't like us in possession – I don't think we were able to find a balance.
We were a bit too direct and were playing hopeful football. We've got better footballers than that and I wanted to get more control and rhythm. There will always be reasons when you have a new group and there's still a lot of work to do to get that joined up thinking.
We've also had a sickness bug  and a number of them didn't train on Friday, and maybe in hindsight there were some who shouldn't have played. Perhaps, as a consequence, we didn't have the same levels of energy and intensity that we normally see. When you're at home and you have to take the game to the opposition, we're not quite where we need to be."
League One, Fratton Park, 6. august 2022
Portsmouth – Lincoln City 0-0
Pompey (4-4-2): Griffiths; Rafferty (Swanson 81), Morrison, Raggett (c), Ogilvie; Hackett (Curtis 62), Thompson (Mingi 70), Pack, Jacobs; Pigott (Scarlett 62), Bishop
Ikke benyttede reserver: Oluwayemi, Freeman, Mnoga
Gult kort: Ingen på Pompey
Tilskuere: 17,855 (481 bortefans)
Joe Pigott.
Michael Jacobs.
Reeco Hackett var nærmest scoring.
Avram Grant så kampen fra tribunen.
Sean Raggett.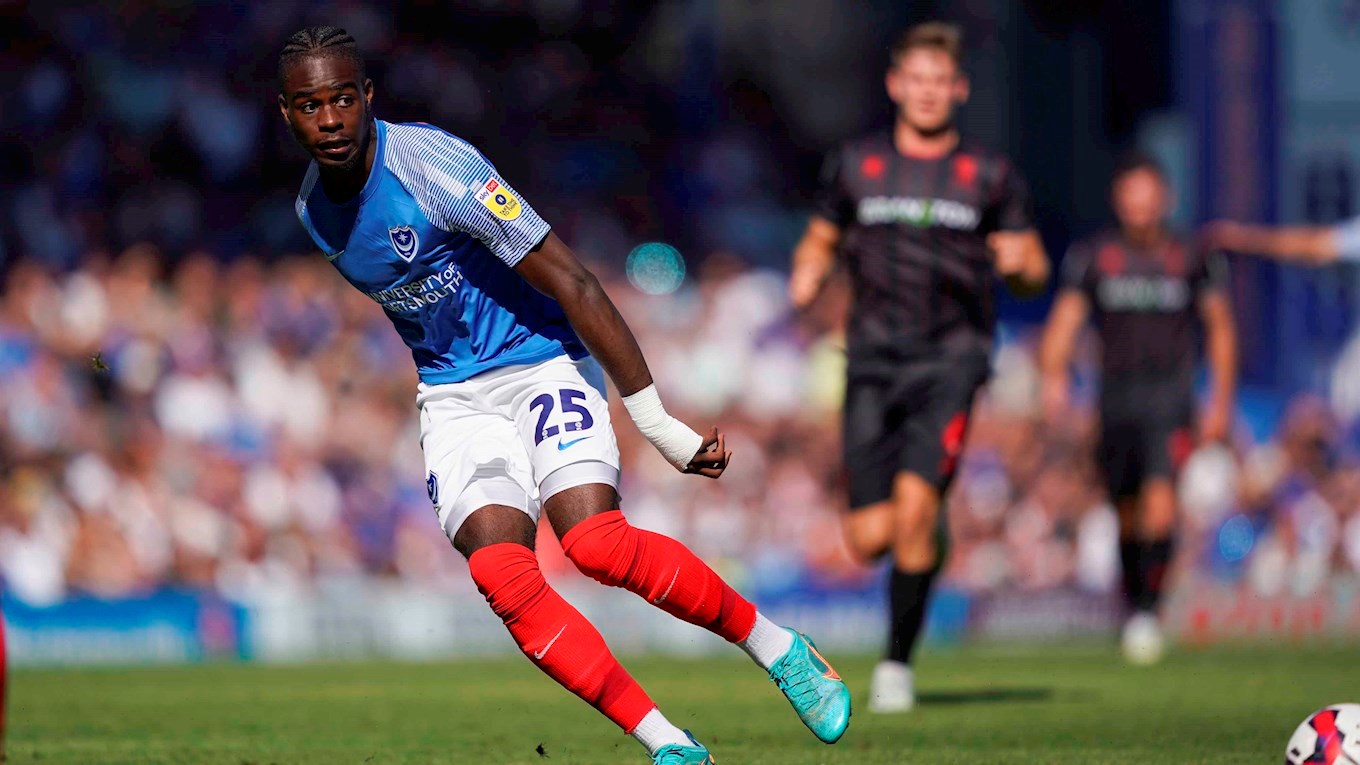 Jay Mingi kom innpå.
Dane Scarlett kom også inn.