Mere solidt end prangende.
---
I sidste sæson måtte vi hen til 4. spillerunde inden den første sejr indfandt sig. Takket være et køligt og præcist skud fra Lee Brown lykkedes det denne gang i første forsøg om end indsatsen som helhed var alt andet end overbevisende.
Fem spillere fik ligadebut i Pompey-trøjen denne eftermiddag, af hvilke fire fik chancen fra start Ryan Tunnicliffe, Gassan Ahadme, anfører Clark Robertson og Connor Ogilvie, der på dagen måtte flyttes op på midtbanen – en for ham uvant position som han udfyldte til bravur – da Shaun Williams i sidste øjeblik måtte melde fra med en mindre skade. Kieran Freeman var ligeledes med fra start, og fik dermed sin første kamp for os siden lejeopholdet i 2016. George Hirsts indskiftning et kvarter før tid afsluttede kvartetten af debutanter mod Fleetwood.
Den officielle kamprapport
https://www.portsmouthfc.co.uk/news/2021/august/match-report-for-fleetwood-town-vs-portsmouth-on-07-aug-21/
Eftertanken
Det var ikke pænt, og især før pausen var vi med afstand det næstbedste hold på banen, men vi holdt stand og fik scoret det ene mål der gav os alle tre points. Med tanke på truppens bredde lige nu og at vi måtte undvære en håndfuld spillere er der ikke andet end at stille os tilfredse med hvad der kun kan betegnes som en solid arbejdssejr hevet i land med hjælp af godt målmandsspil af Alex Bass. Det ligger ikke i luften, at Bass nødvendigvis bliver førstemålmand så det var vigtigt at han fik vist, at han er der og at vi kan stole på ham når det gælder. I den anden ende af banen var der til gengæld ikke ret meget der fungerede, og vi kan kun håbe at det bliver bedre med tiden.
Et hurtigt liga-overblik

Det var en spillerunde med forholdsvis mange pointdelinger heriblandt et målløst opgør mellem Charlton og Sheffield Wednesday samt en 2-2 kamp på Portman Road, hvor Ipswich lidt overraskende havde store problemer med ligadebutanterne fra Morecambe, og kun fik udlignet dybt inde i tillægstiden. To andre favoritter i topstriden, Sunderland og Rotherham, kom godt fra start med sejre mens der også var tre points til nedrykkerne fra Wycombe.
Kommentarer fra Danny Cowley
"It's been an incredibly challenging week and so that was a really important win for us. We had a difficult journey up on the Friday. It took us about nine hours and we didn't arrive until after 9pm. That meant we unfortunately lost Shaun in the warm-up to a stiff back. It's low level, but he was having spasms and then the risk of soft tissue injuries multiply. We'd primed Connor because we only have two midfielders. He'd never played there in his senior career – he has now. So we asked him to be a mixture of Kante and Pirlo, and he was the ginger version! He did just great. Ronan Curtis' partner also had a miscarriage earlier in the week and that's just the saddest news. It certainly puts football into perspective. I send my love to them both, as well as their families. It says a lot about him that he showed a commitment to play for the group and this club. With everything going on in the background, it was a brilliant result and I'm really proud of the players."
"There are a lot of excuses, but we chose not to take them and performed with a real grit and determination to get the points. We dig in and fought our way through. We weren't at our best technically or tactically and that's certainly not how we want to play, but we found a way to win. I was delighted for the fans because so many of them had a difficult journey up, but they were excellent."
League One, Highbury Stadium, 7. august 2021
Fleetwood Town – Portsmouth 0-1 (0-0)
60. minut: 0-1 Lee Brown
Opstillingen (4-2-3-1): Bass; Freeman, Raggett, Robertson (anfører), Brown; Tunnicliffe, Ogilvie; Harness (Johnson '90+2), Gassan (Hackett-Fairchild '68), Curtis; Marquis (Hirst '74)
På bænken: Bazunu, Mnoga, Kaba, Jewitt-White, Johnson, Hackett-Fairchild og Hirst
Advarsler: Brown, Curtis og Freeman
Tilskuere: 4.562 heraf imponerende 1.092 medrejsende Pompey-supportere.
Post-match interview med Danny Cowley
Kampens højdepunkter

Alex Bass sto bra.
Danny Cowley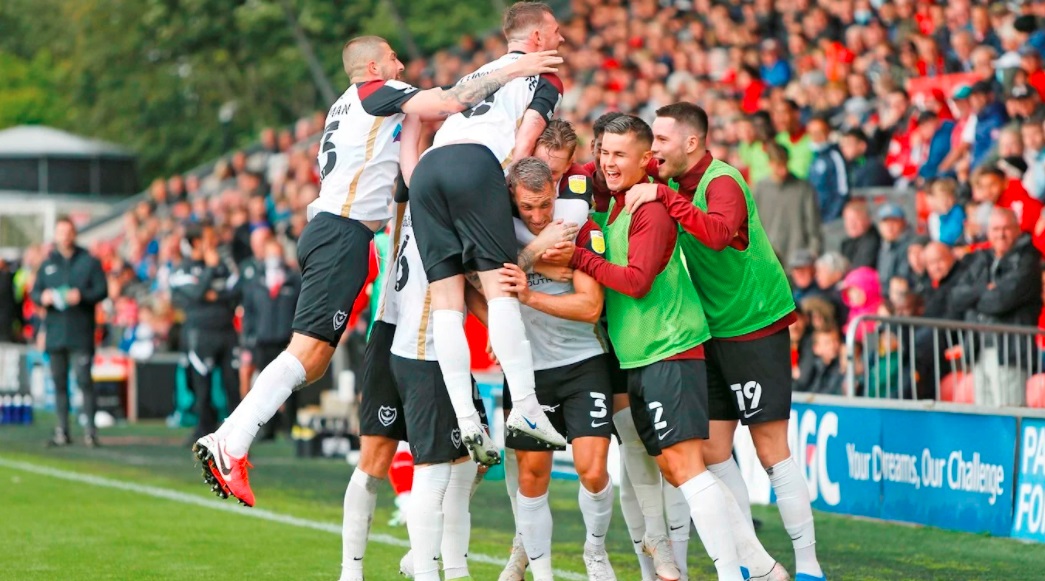 Reeco Hackett-Fairchild.
Sean Raggett.