Tre spillere fra Pompeys akademi ble denne uka tatt ut på ungdomslandslag.
---
AKADEMIET: Eoint Teggart (fra venstre), Conor Manderson og Harry Jewitt-White er spillerne som er tatt ut på sine landslag. For alle tre blir det en treningssamling ettersom det ikke spilles ungdomslandskamper for disse landslagene nå.
Teggart har U16- og U17-landskamper for Nord Irland fra før. Nå er 20-åringen for aller første gang tatt ut i den nordirske U21-landslagstroppen.Vingen, som har én førstelagskamp for Pompey, er en del av tropp på 22 spillere.  Hans kontrakt med Pompey går ut ved sesongslutt.
SE OGSÅ. Eoin Teggarts spillerprofil
Keeper
Conor Manderson er et ubeskrevet blad for de aller fleste. Han har ikke vært i troppen i noen førstelagskamper, men han er da også yngre enn Teggart.
Manderson er keeper på akademiet og er nå tatt ut i den nordirske U19-landslagstroppen. Her skal han være i fem dager.
Debuterte på førstelaget denne sesongen
Sistemann er Harry Jewitt-White. 16-åringen (fyller 17 i morgen 26. mars) debuterte for Pompeys førstelag i høst og spås en lys framtid. Han er nå tatt ut på det walisiske U17-landslaget.
SE OGSÅ: Harry Jewitt-Whites spillerprofil
Akademitrener Liam Daish sier i en kommentar til Pompeys offisielle webside:
– It will be a brilliant experience for all three of them It's always nice for players to have that international recognition and it's something they should enjoy. I'm sure they'll all learn from going away with their countries and we wish them the best of luck."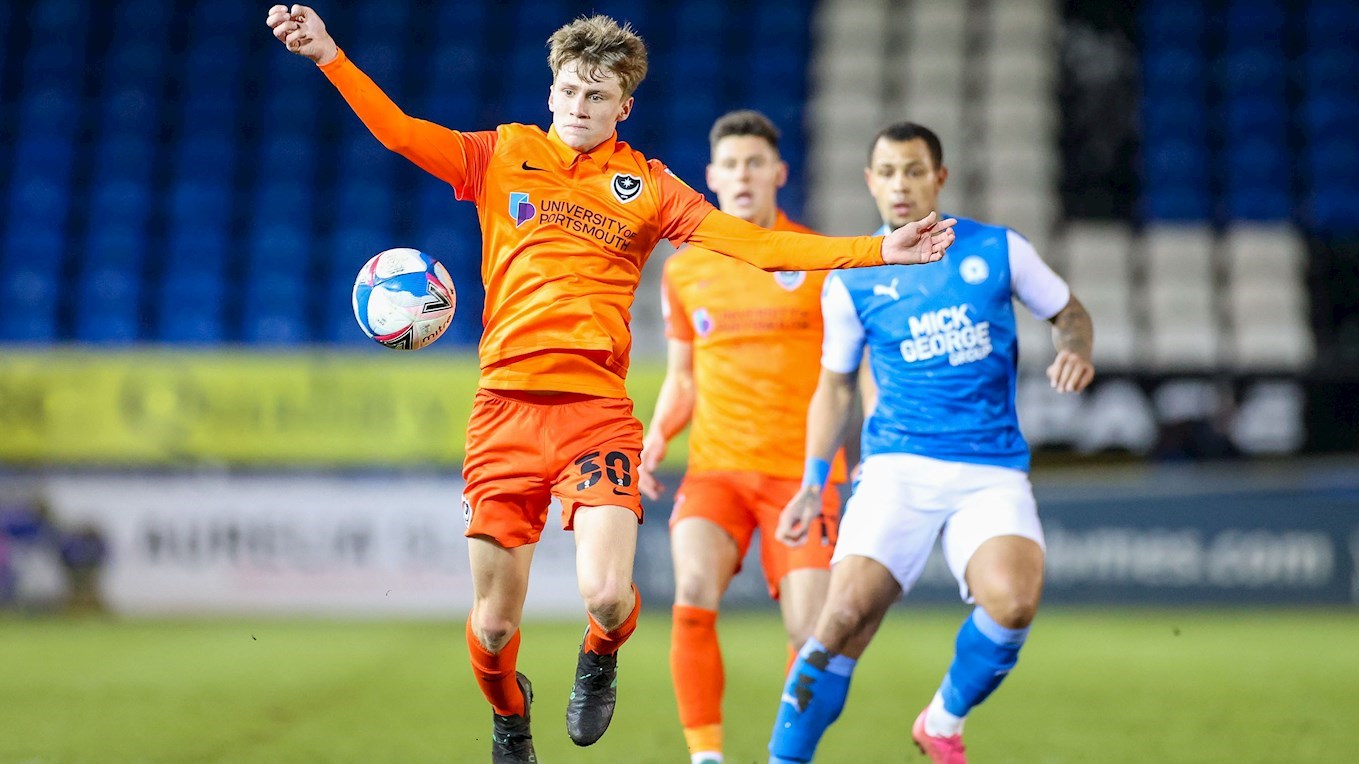 Harry Jewitt-White i aksjon for førstelaget i EFL Trophy tidligere denne sesongen.