Pompey feiret jul på tabelltopp, men etter tre utsatte kamper er vi nå nede på 3. plass. Michael Pantling mener det er god grunn til å være optimistisk før andre halvdel av sesongen.
---
MENINGER: Michael Pantling, vår medlem 42, er bosatt i Danmark, men har i mange år reist over til England for å se Pompey mange ganger hver sesong. Denne sesongen er unntaket også for han. Her er Michaels tanker i det vi starter på et nytt kalenderår.
LES OGSÅ: – A Shining Light in the Gloom
Good Reasons to Be Hopeful
I remain convinced that Pompey will continue to do well for the rest of the season and cannot see any reason why they won't get promoted. Pompey have done consistently well against the top teams so far, particularly when playing away. This has not necessarily been achieved by playing the prettiest of football but it appears to be effective and of course Pompey have had a little luck.
Pompey have continued to score goals and this will certainly help at the end of the season when a good goal difference can make all the difference.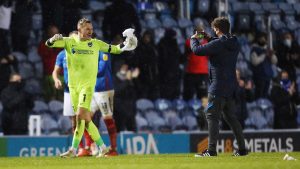 Pompey aren't too bad at the back either and the return of MacGillivray in goal has helped (not that I have anything against Bass) with his extra experience. I would however like to see Pompey sign another centre back. Raggett has improved thankfully and Whatmough is good when fit but there must always be a concern about his knees. Some experienced cover is needed since, in my opinion, Downing hasn't lived up to expectations.
Mange mål fra midtbanen og angrepet
The midfield are improving as a group and I would be surprised if anyone was brought in there. Naylor has had a particularly good season so far and my hope is that he stays injury free since he is playing a vital role in holding things together. Lots of goals from the midfield and strikers but again one more striker would help give a bit of cover. I know that loan players have been a bit hit and miss over the past few seasons but in this case I would not mind a loanee up front (but a permanent replacement for Downing).
It was rather pleasing to see Pompey at the top of League 1 and I look forward to seeing a repeat of Allan Ball's team of nearly 38 years ago ( which included a very young Neil Webb and the likes of Alan Biley, Alan Knight, Alan Rogers and Mick Tait) when we were also battling against Lincoln for the top spot.
Covid gir grunn til bekymring
The only worrying factor is the Covid pandemic which is beyond anybody's control and has already disrupted two of Pompey's recent matches. Player and staff safety has to be of paramount importance but there has to be a balance between canceling and playing matches without putting clubs with smaller squads at an unfair disadvantage so the Football League should be a bit more flexible when limiting the number of times a side can request postponements since these are exceptional times.
I think that PFC have managed the circumstances very well in the was that tickets have been managed particularly with regard to season tickets and not having to pay for the whole season but instead having a pay per match scheme and a ballots for the limited number of tickets that are available. I almost had the opportunity to buy a ticket for Swindon but my registered address in UK is in a high risk area so they were not permitted to let me have one, I would have had to quarantine for 10 days following arrival into UK and then the match was postponed.
Whilst the arrival of various vaccines is to be welcomed, the necessary prioritising of those most at risk and medical staff etc. means that it will take a considerable time for widespread coverage so I doubt that there is little if any chance of seeing live football for the rest of this season.
We will just have to make do with following Pompey remotely and having something to celebrate at the end of the season.
Play up Pompey and godt nytår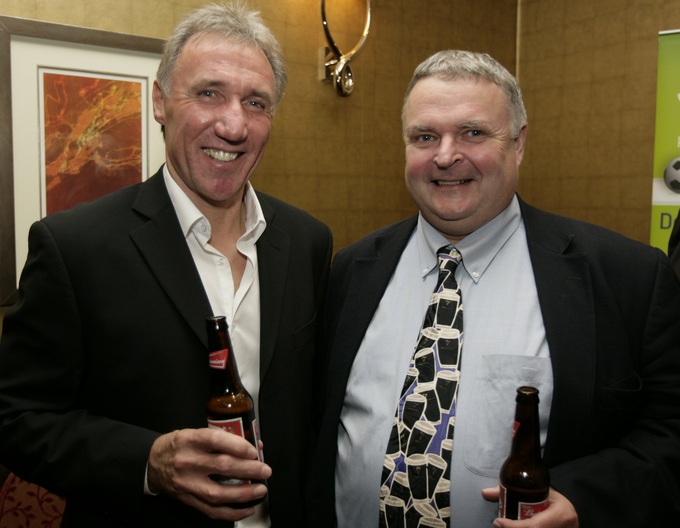 Michael Pantling (t.h.).