Harry Kavanagh var en av seks debutanter da West Ham vant gruppefinalen i EFL Trophy. 
---
Harry Kavanagh, Charlie Bell og Alfie Stanley fikk alle sine debuter for Pompey da de spilte fra start i går. Fra start spilte også ungguttene Haji Mnoga, Eoin Teggart og Harvey Rew, som debuterte i EFL Trophy forrige sesong.
I 2. omgang kom akademispillerne Harry Jewitt-White, Harrison Brook og Seok Jae Lee også inn og fikk sine førstelagsdebuter.
Charlie Bell debuterte for førstelaget og ble kåret til banens beste.
Kampen
Pompey og West Ham U21 var begge videre fra gruppespillet allerede før gårsdagens kamp. Oppgjøret handlet derfor kun om hvem som skulle bli gruppevinner.
Et svært ungdommelig Pompey-lag klarte seg bra, til tross for baklengsmål før det var spilt fire minutter. I en ganske sjansefattig kamp var ikke Pompey langt unna å sikre seg uavgjort mot Premier League-ungguttene.
Kamprapport fra Pompeys offisielle webside
Pompey-manager Kenny Jackett
"It was a useful experience for us, with some of our senior players who needed minutes, getting them. We then had varying degrees of youngsters – from Haji Mnoga who made his league debut last week down to guys like Harrison Brook, who came on for his first ever taste of senior football. I felt that the congestion of the fixture list is a bit too much at the moment, so we didn't want to risk anybody."
"We wanted to get a clear run and have a few days in the week to give some of the guys a rest because we've had a lot of games, but also a lot of travelling. So my priority was always going to be going down to Plymouth next Monday, especially because we'd already qualified for the next stage of this competition. There have to be opportunities for young lads and for them to be able to mix in and play in front of the coaching team."
"It's been difficult to integrate the younger players at the moment because of the Covid situation, so it was a great chance for them. But we faced a West Ham side who have worked together a lot as a team, while we were a collection of individuals at times. Our best opportunities were for Jordy Hiwula and the keeper had to make one fantastic save to deny him. We couldn't get enough support up to him generally, although he showed he's got pace and experience."
EFL Trophy, gruppespill, Fratton Park 10. november 2020
Portsmouth – West Ham U21 0-1 (0-1)
4. min. 0-1 Corbett
Pompey (4-4-2): Bass; Mnoga, Bolton, Downing (c), Rew; Kavanagh (Brook 66), Bell (Lee 79), Morris, Teggart; Stanley (Jewitt-White 66), Hiwula
Gult kort: Mnoga, Downing
Ikke benyttede reserver: Turnbull, Setters, Hughes, Bridgman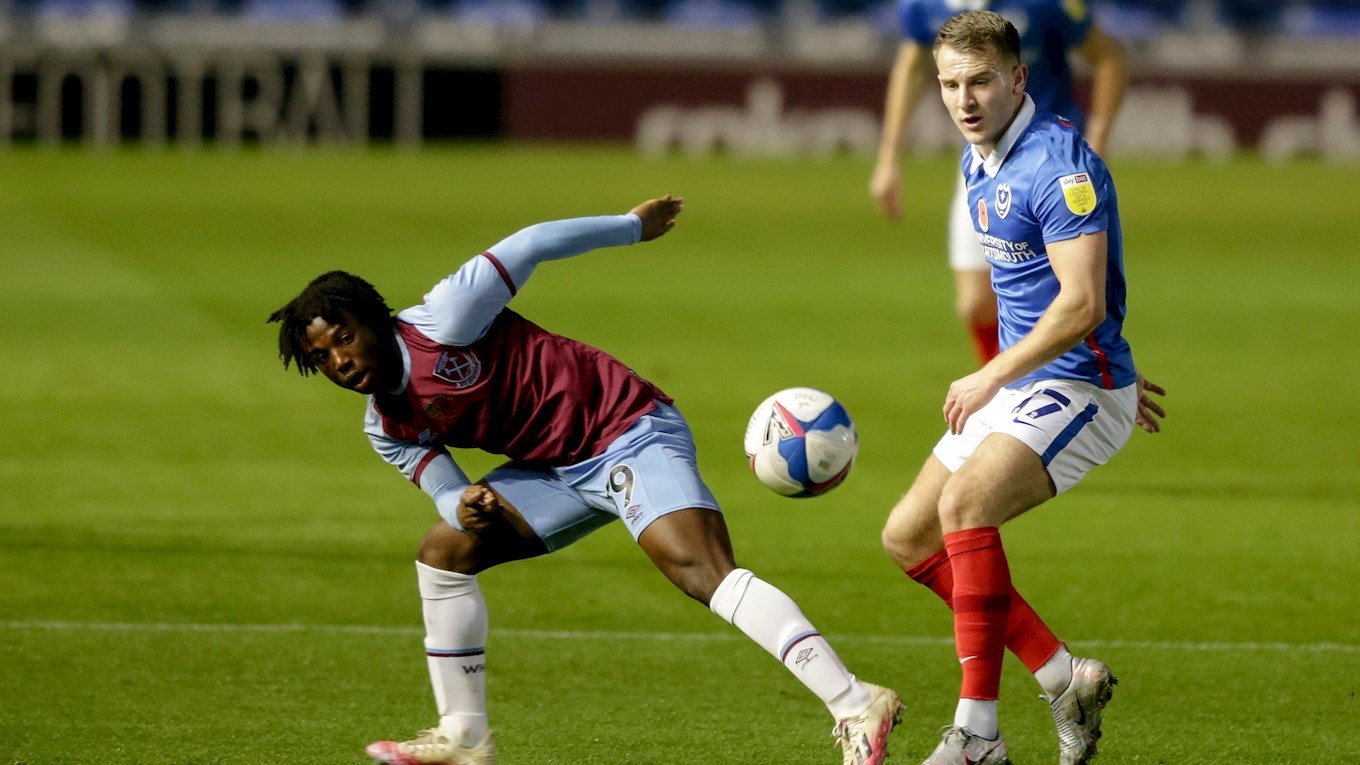 Bryn Morris var en av få seniorer i aksjon for Pompey. Morris utmerket seg ikke.
12 years at this club.. Seeing my name on the back of the shirt is the best feeling I've ever had. So hungry for more ??? pic.twitter.com/14WAFOU5PB

— Harry Kavanagh (@harryjkavanagh) November 10, 2020
Been waiting for this opportunity all my life. As a kid born is Portsmouth and with it always in my heart It's a huge pleasure to make my first team debut. Hopefully many more to come⚽️ @Pompey pic.twitter.com/Db2ot3lrpf

— charliebell10 (@charliebell101) November 10, 2020
Hopefully more to come…? pic.twitter.com/gz2haN8Nkw

— Harvey Rew (@rew_harvey) November 10, 2020
Dream come true playing for my boyhood club ? pic.twitter.com/w2Fb18fCOx

— harrisonbrk13 (@harrisonbrk13) November 10, 2020
Alfie Stanley
Harrison Brook.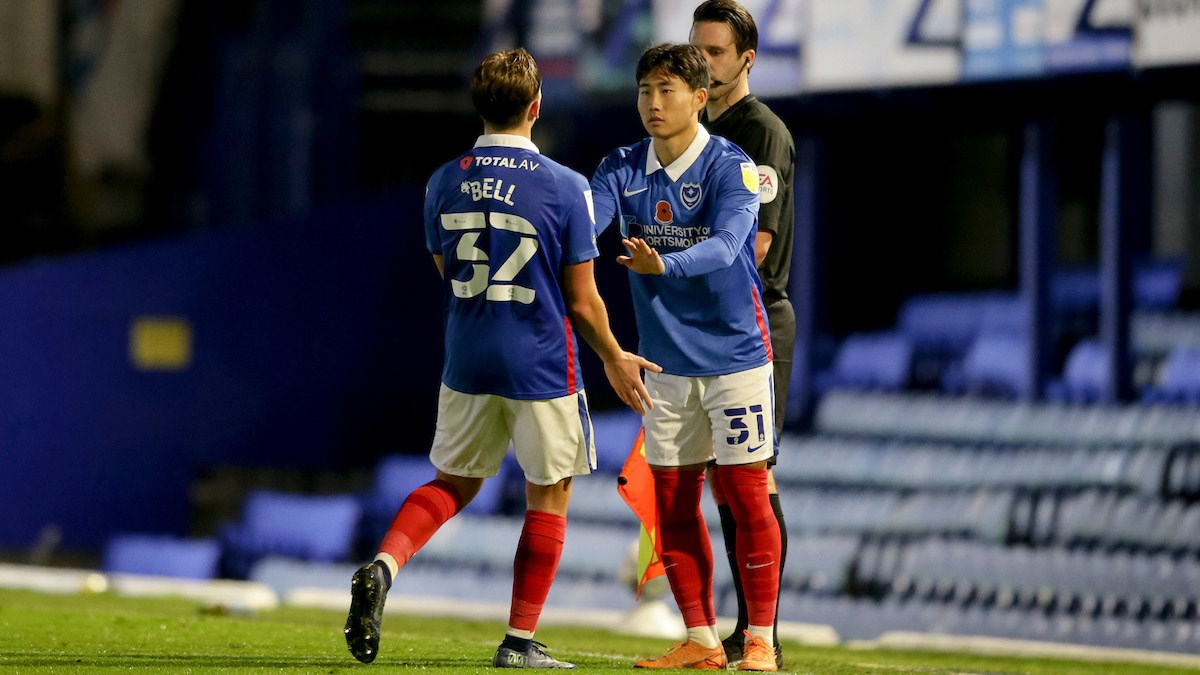 Seok Jae Lee kom også inn til sin førstelagsdebut.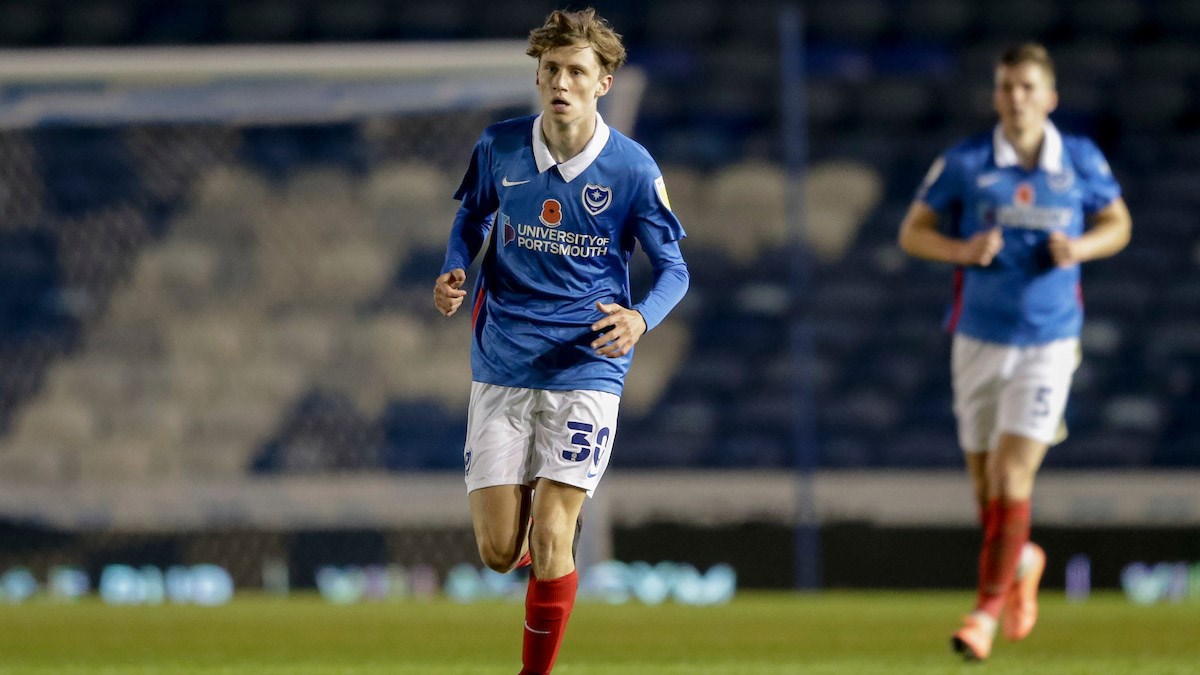 Harry Jewitt-White.