Stadig ubesejret!
---
Med den efterhånden typiske 2-2 pointdeling mellem os og Plymouth røg vores fine stime af sejre, men vi udbyggede rækken af kampe uden nederlag til ni. Det er det umiddelbare resultat af endnu en nervefyldt og spændingsmættet kamp mellem de to hold, hvilket ikke ændrede noget i tabellen denne søndag, og dermed holder vi stadig fast i andenpladsen i League One.
Josh Koroma fandt vej til startelleveren på bekostning af Ronan Curtis som den eneste ændring fra 2-0 sejren mod Burton tirsdag aften, og det viste sig at være helt rigtigt set af Danny Cowley, da angriberen sørgede for et flot åbningsmål på kampen. Ligeledes havde vores manager en heldig hånd med at sende Reeco Hackett på banen til sidst da det var ham der sørgede for, at det ene point blev på Fratton Park.
Tom Lowery måtte desværre forlade banen med en skade i slutningen af første halvleg. Hans direkte erstatning Joe Morrell gjorde det dog upåklageligt.
Den officielle kamprapport
https://www.portsmouthfc.co.uk/news/2022/september/match-report-for-portsmouth-vs-plymouth-argyle-on-17-sep-22/
Eftertanken
Vi har tidligere nævnt holdets vindermentalitet og evne til at komme tilbage i kampene, og den fik vi altså endnu et bevis på mod Plymouth. At det skulle blive nødvendigt var til gengæld selvforskyldt i en kamp som vi burde have afgjort til egen fordel længe før udligningen til 1-1. Man kan argumentere for at det er heldigt at bjærge et point så sent i kampen, men de mange tillægsminutter skyldes delvis gæsternes tendens til at trække tiden i slutningen af kampen, og tidligere i kampen havde Pompey alt andet end medvind i form af nogle besynderlige dommerkendelser og et mål som tilsyneladende havde passeret Plymouths mållinje, men ikke talte. I sekunderne forinden ville en anden dommer muligvis også have tilkendt hjemmeholdet et straffespark for hånd på bolden i gæsternes felt.
Et hurtigt liga-overblik

Kampen på Fratton Park var ikke den eneste topkamp der endte 2-2 denne lørdag, da Sheffield Wednesday og Ipswich ligeledes deltes i porten med de samme cifre. Det var også medvirkende til at stillingen i toppen af tabellen forblev uændret. Derby County vandt knebent 2-1 hjemme mod Wycombe mens Barnsley langsomt er ved at komme i form og vandt med 3-0 hos Cambridge. I bunden noterede Burton sig for sæsonens første sejr ved at hente tre points hos Exeter City. Rundens mest målrige opgør fandt sted i Bristol, hvor Rovers gik ned med 3-6 til Lincoln City.
Kommentarer fra manager Danny Cowley
"I thought we played really well for the first 70 minutes and just weren't ruthless enough. There were a lot of positive moments, particularly on the transition, against a Plymouth side we have a lot of respect for. They're as good as we've played so far this season and will certainly be right up there, let me tell you that. But goals change games and we concede a poor one. We didn't defend the 1v1 situation well enough, then allow the cross to come in and the mistake happens. That turned the match on its head and they scored another that was disappointing from our point of view. All of a sudden we're behind and you have to decide what you stand for. But the players on the pitch – and the supporters off it – did what they did best. They dug in and found a way. There was the tactical smartness of Marlon to find Joe in space and it was a fantastic cross from him, followed by a fine header from Reeco. He's six foot three and owes me some headers!"
"There's a handball and it's about two yards over, but I haven't had a chance to speak to the referee yet. We're in the 21st century and to help the officials, I think we should have the technology in professional football. I don't know why we don't have it, but his watch would most definitely have been vibrating if we did."
League One, Fratton Park, 17. september 2022
Portsmouth – Plymouth Argyle 2-2 (1-0)
41. minut: 1-0 Josh Koroma
74. minut: 1-1 Sean Raggett (selvmål)
79. minut: 1-2 Niall Ennis
90. minut: 2-2 Reeco Hackett
Opstillingen (4-4-2): Griffiths; Ogilvie, Morrison, Raggett, Robertson (anfører); Dale (Hackett '81), Pack, Lowery (Morrell '40), Koroma (Curtis '70); Scarlett (Pigott '70), Bishop
På bænken: Oluwayemi, Swanson, Mingi, Hackett, Morrell, Curtis og Bishop
Advarsler: Pack, Hackett, Bishop og Morrison
Udvisning: Ingen
Tilskuere: 19.009 (udsolgt), hvoraf 1.899 var medrejsende Argyle-supportere
Interview efter kampen med manager Danny Cowley
Interview med Reeco Hackett
Kampens Højdepunkter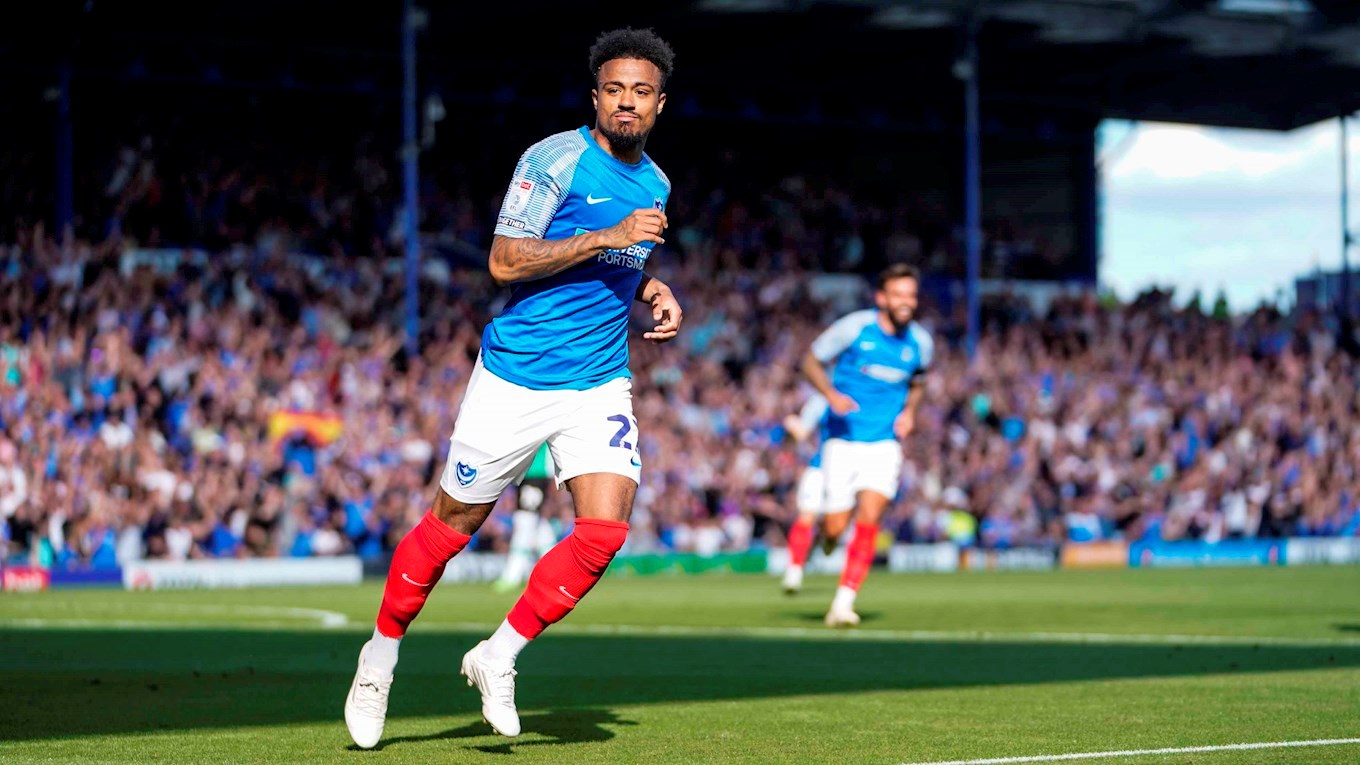 Josh Koroma scoret vårt første mål.
Jubel for 1-0-scoringen.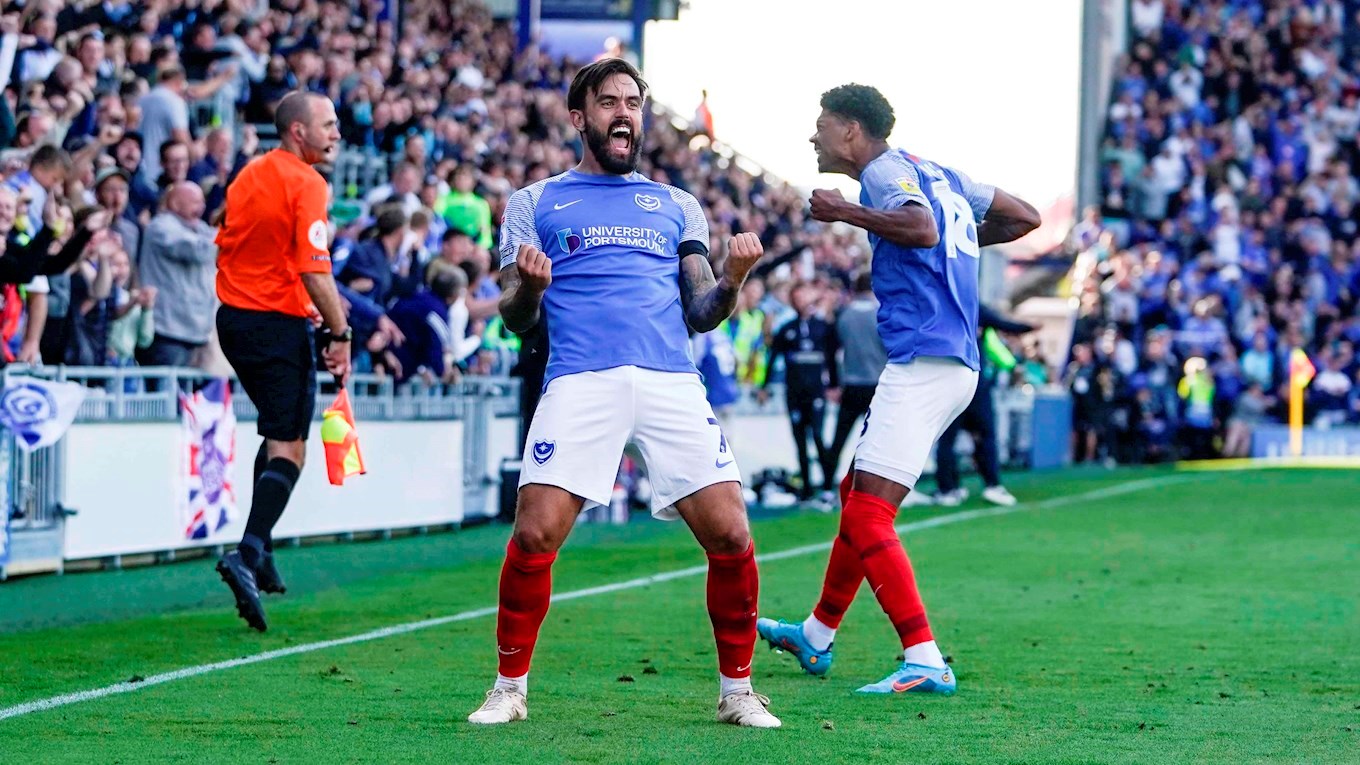 Marlon Pack med målscorer Reeco Hackett i bakgrunnen etter 2-2 på overtid.