Exit EFL cup i 1.runde, trods føring efter flot mål, men Millwall havde chancer til mere og rødt kort til Callum Johnson gjorde det svært for Pompey, der dog havde forsøg på træværket til slut.
---
Millwall var dog bedre og Pompey så ikke skarpe ud defensivt, og det kneb med chancer. Nu er truppen forhåbentlig på plads og lad weekenden komme med en sejr tak.
Portsmouth manager Danny Cowley:
"It was a valiant loss I suppose – but I'm not really into those. They never usually do too much for me.
"I am proud of our players, though, because we had a brilliant start, controlled that part of the game and looked a real threat offensively.
"It was certainly a better performance than on Saturday, with Shaun Williams looking more familiar with that midfield role.
"I thought he was great and it was brilliant when he came off and got the applause from both sets of supporters.
«We were on the front foot and then the referee makes a bizarre decision.»
"But we lost our way a bit towards the middle of the first half and conceded two goals in quick succession.
"I thought we recovered from that and started well after the break. We were on the front foot and then the referee makes a bizarre decision.
"He's a good official, but Gary Rowett next to me said: 'Wow.' You can argue it might be a foul, but it's not a booking, let alone a sending off.
"Callum apologised to the group after the game, but he didn't have to and we'll look to get that rescinded."
EFL Cup 1.runde, The Den, 10. august 2021
Millwall – Portsmouth 2-1 (2-1)
4 min 0-1 Reco Hackett-Fairchild
21 min 1-1 Malone
27 min 2-1 Saville
Pompey (4-2-3-1): Bass; Johnson, Raggett, Robertson (c), Ogilvie; Tunnicliffe, Williams (Jacobs 61); Hackett-Fairchild, Gassan (Freeman 52), Curtis; Marquis (Hirst 46)
Røde kort: Johnson
Gule kort: Hackett-Fairchild
Bænken: Bazunu, Mnoga, Brown, Harness, Jacobs, Freemann, Hirst
Tilskuere: 7,915 (2,000 Pompey fans)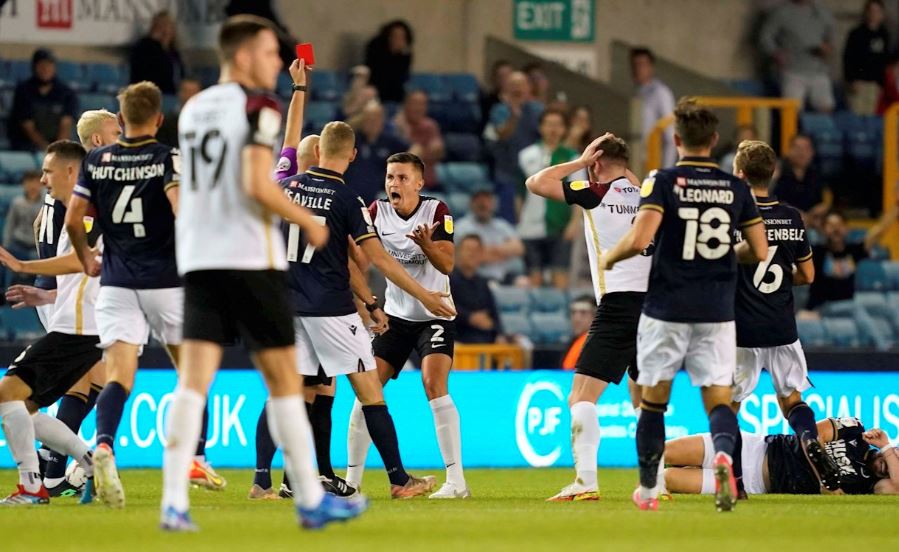 Callum Johnson kan ikke tro det er sant at han blir utvist for sin takling.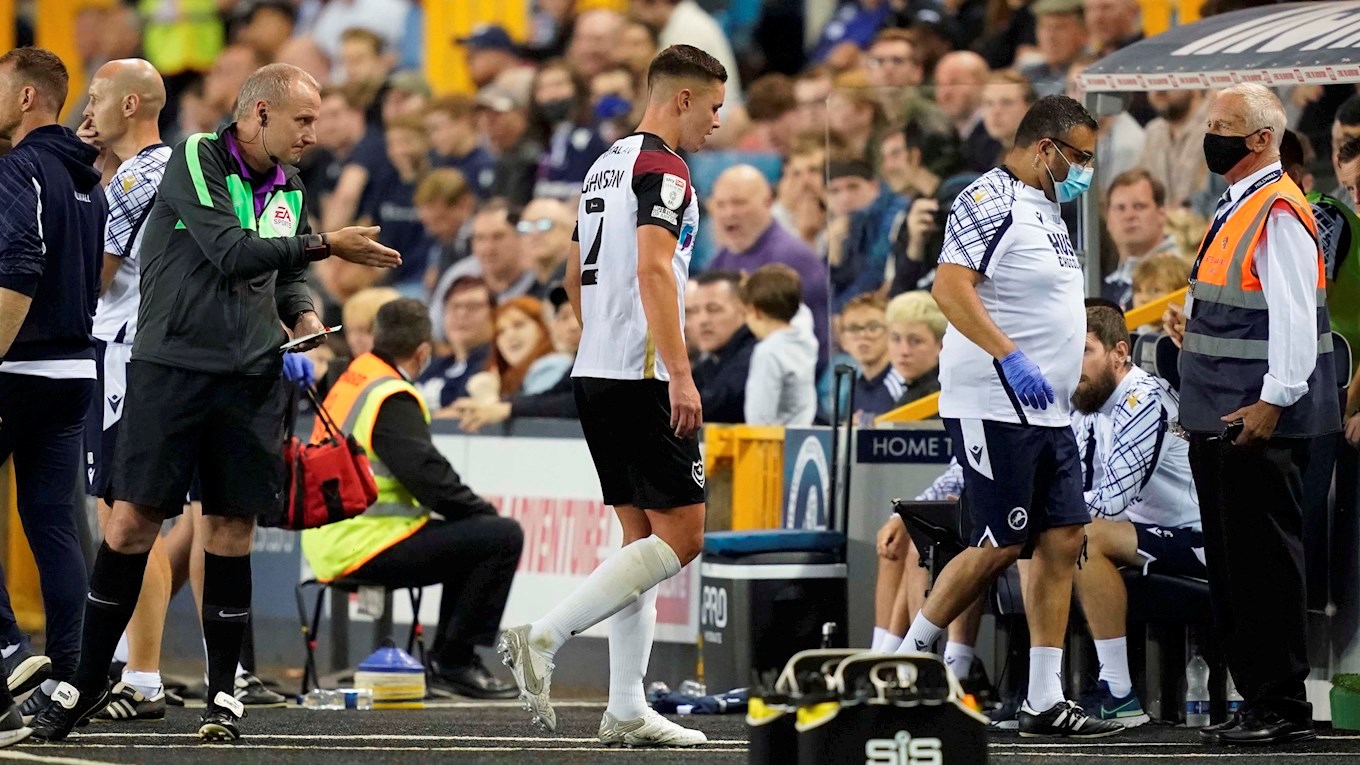 Brødrene Cowley på sidelinjen.
Shaun Williams i aksjon mot gamleklubben.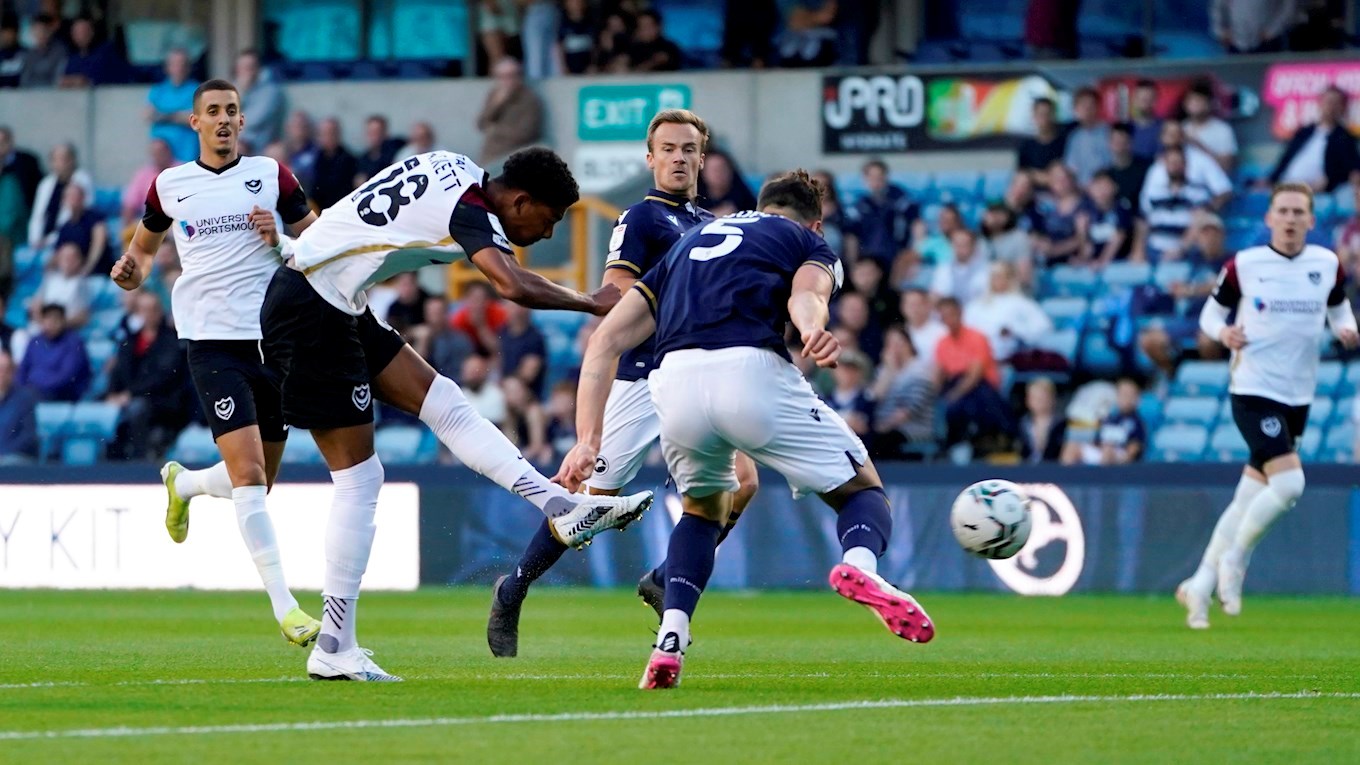 Hackett-Fairchild dunket inn 1-0.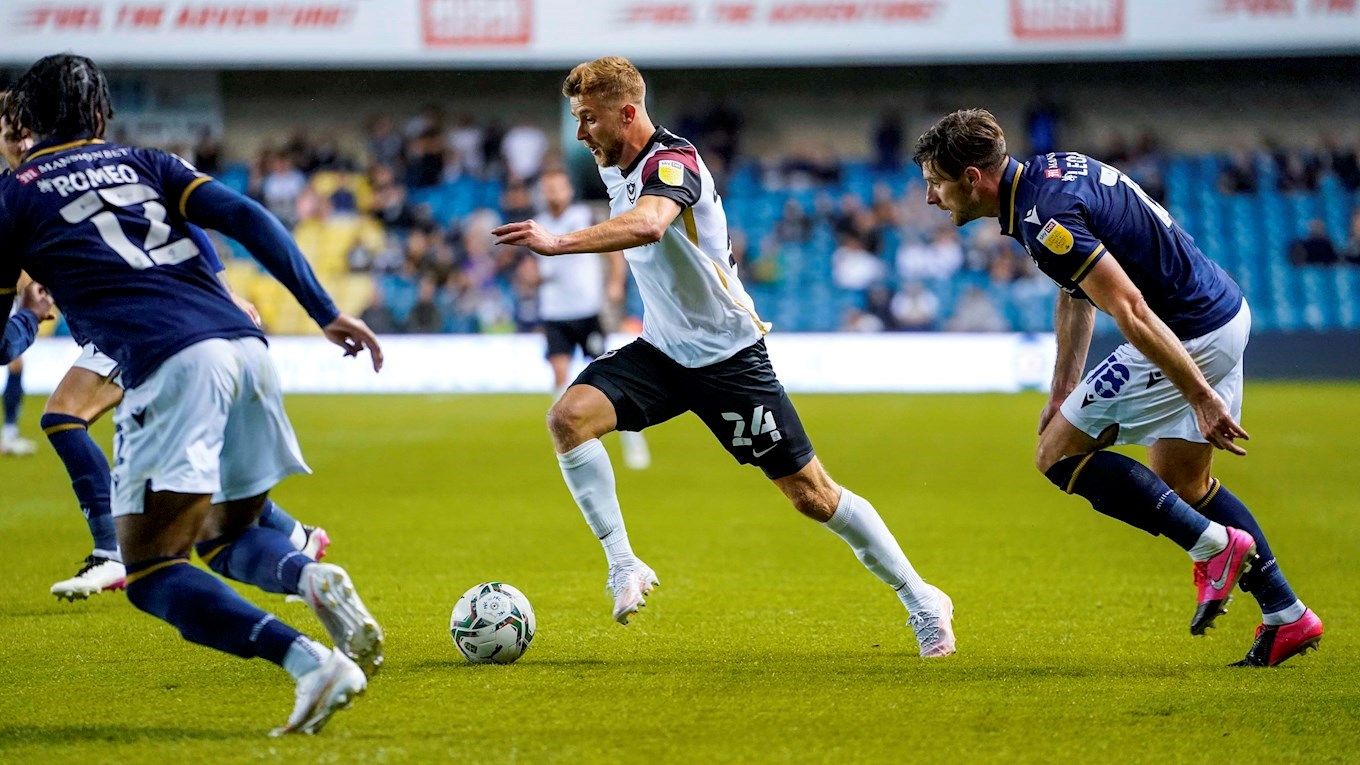 Michael Jacobs.