Vi tog tyren ved hornene
---
Efter en intens og meget lige første halvleg viste vi efter pausen klassen og forskellen på de to mandskaber da vi vandt med 3-1 hos Hereford FC. Dermed er vi klar til FA Cuppens 2. runde når der trækkes lod mandag aften.
Der var to ændringer i Pompeys startellever denne aften i Hereford. Reeco Hackett fik chancen i stedet for Dane Scarlett, som Tottenham har valgt for en sikkerheds skyld at spærre i pokalkampe. Derudover erstattede Ronan Curtis Owen Dale.
Hos værterne spillede Miles Storey hele kampen, og det var også den tidligere Pompey angriber der midlertidigt bragte Hereford på 1-0.
Den officielle kamprapport
https://www.portsmouthfc.co.uk/news/2022/november/match-report-for-hereford-fc-vs-portsmouth-on-04-nov-22/
Kommentarer fra manager Danny Cowley
"We're really pleased with the outcome and knew it was going to be our toughest game of the season. Anyone there will understand just why that's the case. It's an iconic, old-fashioned stadium and we were playing a team who gave it everything. Their intensity in the first half was incredible and some of our younger players in particular found it difficult. There are injuries, as everyone knows, while we didn't have Dane or Owen available and they're two big players for us. We missed their energy and intensity. We had to get in at half-time and regroup, but I thought we were significantly better after the break and found a good rhythm. We just looked much more like ourselves and the substitutes who came for us on made a big difference."
"It was great to see Tom Lowery back on the pitch again – we're better with him – and hopefully we'll have Marlon Pack by the next time we play as well. We also have to give credit to Jay Mingi and Ryan Tunnicliffe because they've gone Saturday, Tuesday, Saturday, Tuesday, Friday on the back of very little game time."
Et par ord fra Colby Bishop

"It was tough – but what do you expect coming to a place like this?! You're not going to come to Hereford and everything be perfect. You've got to ride the storm at times and I thought we did that well. We believed in what we were doing. They came flying out of the traps, but – with all due respect – they're probably not going to keep the same intensity as us throughout the match. We just said we had to keep believing and moving the ball. You could see that got easier in the second half when they tired."
"I don't care who we get in the next round. We get whoever we get and then we just take it from there."
FA Cup, 1. runde, Edgar Street, 4. november 2022
Hereford FC – Portsmouth 1-3 (1-1)
26. minut: 1-0 Miles Storey
33. minut: 1-1 Reeco Hackett
63. minut: 1-2 Colby Bishop
80. minut: 1-3 Joe Pigott
Opstillingen (4-2-3-1): Griffiths; Swanson, Raggett, Robertson (anfører), Ogilvie (Hume '85); Mingi (Lowery '61), Tunnicliffe; Curtis (Pigott '61), Hackett, Koroma; Bishop

På bænken: Oluwayemi, Freeman, Morrison, Dockerill, Payce, Mottoh, Hume, Lowery og Pigott
Advarsler: Mingi og Koroma
Udvisning: Ingen
Tilskuere: 4.912 heraf 681 Pompey fans
Post-match interview med Danny Cowley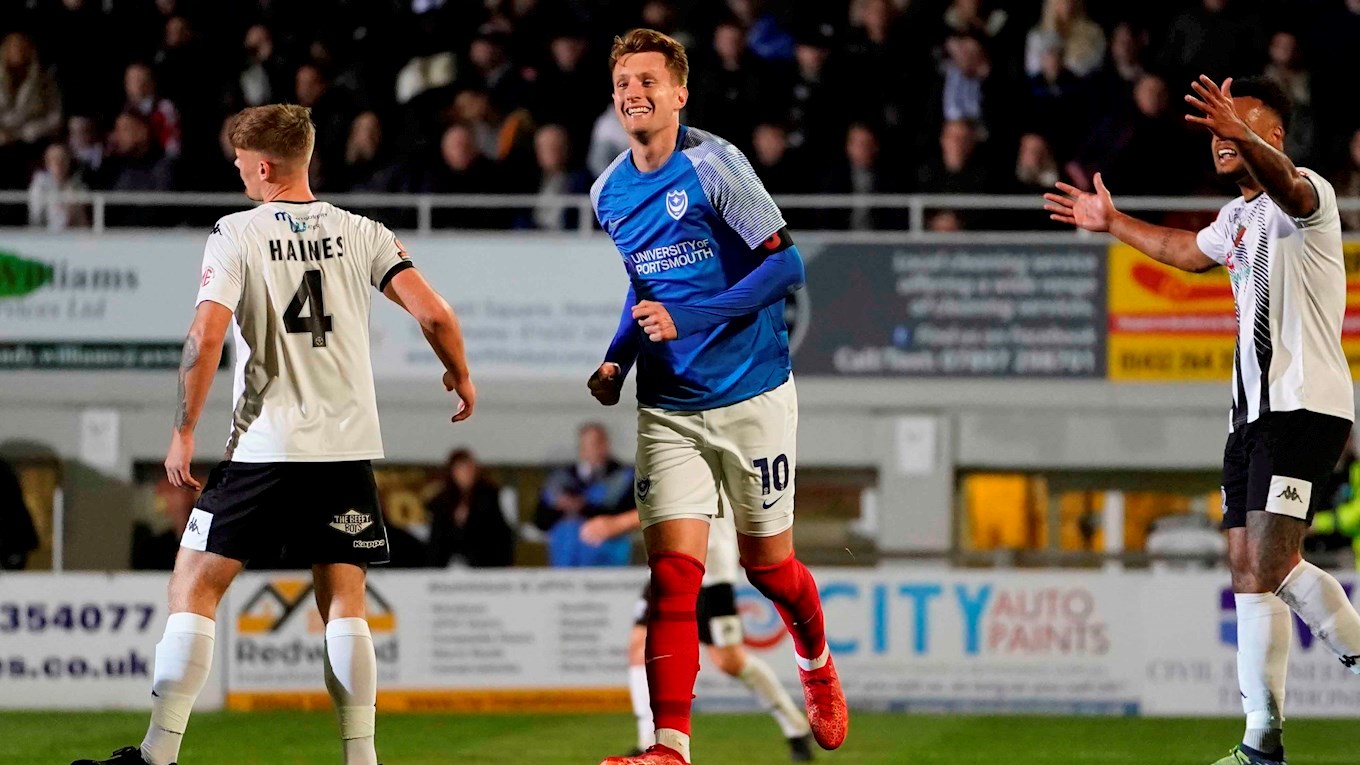 Joe Pigott jubler for sin scoring.