Til tross for tap for Gillingham, er Michael Pantling klar på at Pompey fortsatt er på riktig vei.
---
MENINGER: Michael Pantling er som kjent den av våre medlemmer som oftest ser Pompey i aksjon på balløya.
With just over half of the season gone we are still top (just). Our performance against Sunderland was magnificent in front of a sell out crowd – Pompey showed what they are capable of and why they deserved to be top. Sunderland were restricted to a single shot on goal which gave them their goal. Scoring 3 against Sunderland was a fine show of teamwork.
Unfortunately the match against Gillingham was a bit of a disaster, we did ok in restricting them for nearly all of the first half and had a few missed chances. The second half was a bit of a horror show with our 3 attacking forwards being substituted as they appeared to have lost their way and had no imagination. We then suffered to loss of Nathan Thompson not just for the rest of the match but possibly much longer. Green was not able to produce a late goal and Pitman wasted chances. All in all very disappointing.
The season so far has produced a stable team selection who have generally performed very well – for me the stand out performers have been Ben Thompson and Ronan Curtis at the front and McGillivray, Clarke and Whatmough forming the core of a solid defence. Nathan Thompsen, Naylor and Brown have provided some much needed bite to our performances together with the ever reliable Evans holding it all together. The fans seem equally divided about Hawkins, for many he does a good job distracting opposition defences and holding up the ball allowing Curtis and Lowe more space to attack whilst the distractors focus more on his many inconsistencies in front of goal – with his poor performance at Gillingham being an example.
I'm hoping that we can put our recent defeats quickly behind us and move on back to our winning ways.
We have generally been effective but not particularly attractive to watch with the ball being hoofed up in the air far too much for my liking, particularly when we have the players with the skill to play it on the ground.
Luton den største overraskelsen
I had always expected Sunderland and Barnsley to be our main competitors, Peterborough have fallen away recently and last years challengers such as Plymouth, Shrewsbury and Scunthorpe have had shocking seasons with Doncaster, Charlton and Peterborough doing ok but lacking consistency recently. I hadn't expected Luton to be anything but mid table so them being second is the biggest surprise of all for me.
It clearly isn't going to be easy to maintain an automatic promotion spot and our success may depend on a few signings in the transfer window, particularly if Ben Thompson is recalled to Millwall.
Walkes is the most likely replacement for N Thompson but for me he is a bit lightweight for that position. There are rumours of Pompey being interested in Jayden Stockley following his success at Exeter, he is similar to Hawkins but in style and size but a better finisher, the quoted price tag is £750,000 which is quite a lot for someone who probably isn't Championship quality. I cannot see Pitman returning regularly since he seems to have totally lost his drive and energy. Mason doesn't appear to be the answer either. Nobody seems to have missed Connor Chaplin since he went to Coventry.
Haunstrup and May both need game time but are unlikely to get much in the league unless there are injuries/suspensions. I would like to see an experienced right back, a robust midfielder as cover for Naylor and a striker come in in January – even if they are loan signings. It should help maintain our push towards promotion.
I'm still positive that we can do it, we have out played the better teams but been a bit too casual against those in lower positions. If we can keep focused and have a little luck automatic promotion can still be ours in 2019.
PuP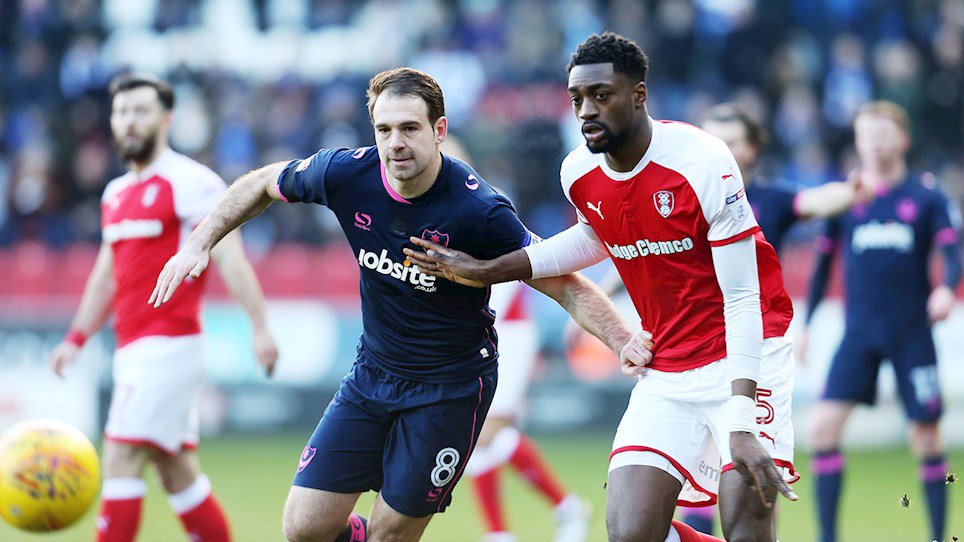 Brett Pitman